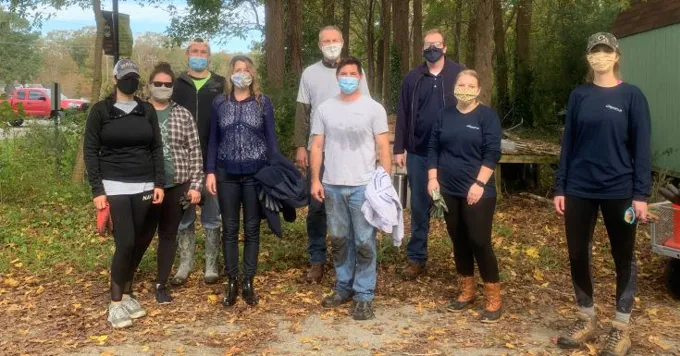 Our Waterfront Law Team at Paradise Creek Nature Park
Planting Native Species with Elizabeth River Project
Waterfront Law Team Visits Paradise Creek Nature Park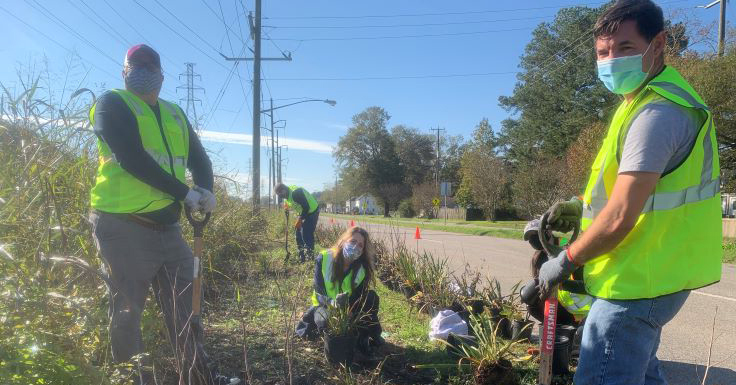 On November 14th, 5 attorneys from our Waterfront Law Team supported the Elizabeth River Project in planting native species in a lengthy bioswale at Paradise Creek Nature Park, which is a national model for urban river restoration. Paradise Creek was formerly a hazardous waste dump, and now the 40-acre waterfront park has two miles of trails and 11 acres of new tidal wetlands. The Waterfront Law Team previously volunteered with Elizabeth River Project to remove invasive plant species and plant native elderberry bushes and plant native shrubs.
"The Waterfront Law Team helped in not just cleaning up, but also in planting native plants along the restored Fresh Water Wetlands," said Lawrence LaPell, Park Naturalist for Paradise Creek Nature Park. "These plants will absorb the runoff water and clean the sediments before going into the street drains and ultimately ending in the River. We are very grateful to your team and hope we can work together again to continue improving these conservation efforts."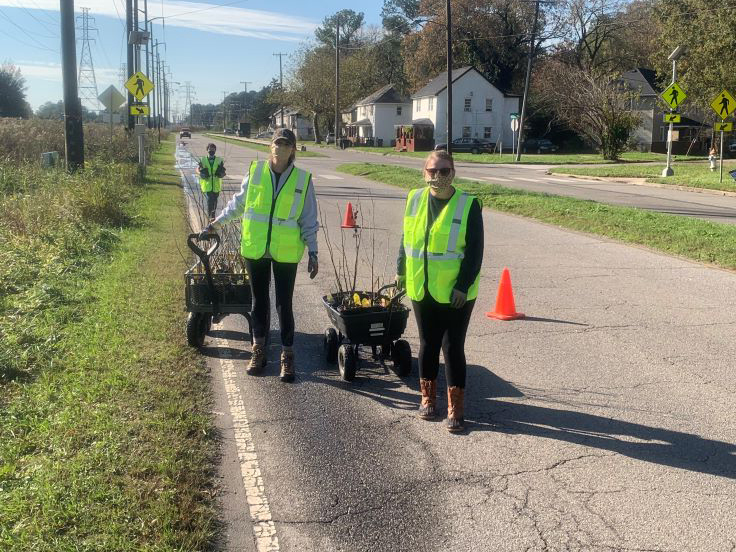 This land is saturated for part of the year and dries out in other parts of the year. In an effort to accommodate these needs, we planted blue flag irises, Lord Baltimore Hibiscus, Joe Pye Weed, and rose mallow, which have all "bio-adapted" to this changing soil regime.
What are bioswales?
Bioswales are channels designed to concentrate and convey stormwater runoff while removing debris and pollution. Bioswales can also be beneficial in recharging groundwater, and are typically vegetated or mulched. The bioswale where we worked is designed for vegetation. They consist of a drainage course with intentional troughlike depressions and gently sloped sides, and are intended to maximize the time water spends in the swale, which aids the collection and removal of pollutants, silt and debris. Depending on the site topography, the bioswale channel may be straight or meander.
Supporting Elizabeth River Project
Our Waterfront Law Team is proud to show continuous support to the Elizabeth River Project, and their dedication to cleaning up the Elizabeth River through education and restoration. We were a sponsor for the 2019 River Stars formal awards lunch and Moon River Supper, and were recognized as a "River Star" business this past February.
For more information on the Elizabeth River Project and their volunteer events, check out their website here.