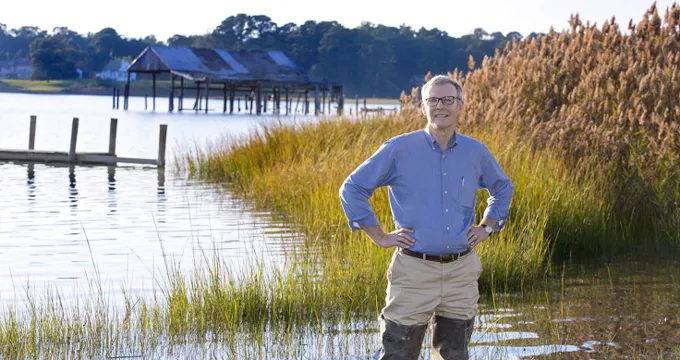 Jim Lang, Waterfront Law Team
Mitigating Impacts to Wetlands – Webinar Recap
Watch Our Webinar
You can download the slides from this webinar here.
What We Covered in Our Webinar
In our latest webinar, environmentally trained attorney Jim Lang, with the Waterfront Law Team, and Curtis Hickman, Environmental Project Manager at Wetlands Studies and Solutions discuss the use of credits from a wetland's mitigation bank.
What is a Wetland Mitigation Bank and What Circumstances Create the Need to Purchase these Credits?
A wetland mitigation bank is a site or a suite of sites, where resources (e.g., wetlands, streams, riparian areas) are restored, established, enhanced, and/or preserved for the purposes of providing compensatory mitigation authorized by USACE Permits. 33 CFR 332.3.
Virginia has approximately one million acres of wetlands (tidal and nontidal) with 71% in the coastal plain. There are numerous circumstances which might create the need to purchase credits from a wetland mitigation bank with development serving as the biggest activity that converts wetlands to uplands. Therefore, purchasing a mitigation bank credit is likely required during the permit process, especially where the activity is a development project anywhere within the Virginia coastal plain.
Those who fail to comply with the law risk civil or criminal penalties – administrative fines can be up to $10,000/day; civil fines can be up to $25,000/day and criminal fines can be as much as $250,000 and up to 15 years in jail.
Purchasing Mitigation Bank Credits
Purchasing credits from a mitigation bank is the preferred method to mitigate wetland impacts.
Required to be the first option considered by the Corps and DEQ.
Saves time and money.
Banks are pre-approved by the permitting agencies.
Liability for the success of the bank stays with the Mitigation Banker.
Outside of purchasing credits from the mitigation bank, there are alternative mitigation options buyers may consider.
In-lieu fee trust fund (Virginia Aquatic Resource Trust Fund) is considered the second choice if private credits are not available.
Permittee responsible mitigation / onsite mitigation is considered the third option, only if approved by the permitting agencies. Additionally, this option needs to be more ecologically beneficial than the purchase of mitigation credits, requires permitting as part of the JPA, needs approval from the Restoration Plan as well as financial assurances and monitoring is required for up to ten years.
Affected Habitat Type Drives Selection of Appropriate Mitigation Credits
Impacts to tidal wetlands require credits from a tidal wetlands mitigation bank. There are non-tidal wetlands banks for impacts to non-tidal wetlands and streambank wetlands banks for impacts to streambanks. Likewise, the mitigation ratios determine the compensatory requirement. For example, wetland impacts in a forested wetland triggers a mitigation ratio of 2:1, meaning that the permittee whose project will affect 1 acre of forested wetlands must purchase 2 acres of mitigation bank credits. The mitigation ratio for impacts in an emergent wetland is 1:1. The credits must be acquired from a mitigation bank located in the same watershed as the wetlands impacted by the project.
Pricing of Mitigation Bank Credits
Recent estimates of mitigation bank credits prove that costs vary. However, that did not stop Jim and Curtis from providing projected costs. Pricing for credit in the non-tidal wetlands' banks serving the Hampton Roads area of southeast Virginia average about $100,000, whereas a one-acre credit in a non-tidal wetlands bank servicing the lower James River area is priced at about $35,000 per acre. Credits in a tidal wetlands bank are far more expensive.
How to Find a Mitigation Bank
DCR Virginia Hydrologic Unit Explorer
Shows the HUC Boundaries
USACE RIBITS Website
Find Banks Approved for use in your Project Area
Available Credit Types
What to do if you are Treated Unfairly
If you feel as if you are treated unfairly, the first question to ask yourself is, "Who do you have on your team." You will be disadvantaged unless you are working with an experienced wetlands consultant and an environmentally trained attorney. If in the end the terms offered by the regulatory agency are onerous your choices are to accept what has been offered and proceed with the project, abandon the project, or use the court to reverse the agency decision. If things have reached the point where you are considering legal action against the agency, having the environmentally trained attorney with you during each step of the permit process is a worthwhile investment because court proceedings in these types of cases are decided on the evidence compiled at the agency (known as "the administrative record"). The possibility of a good result in court is greatly reduced if the administrative record is closed before documentation favorable to the applicant has been entered into the administrative record.
For additional resources, please visit: