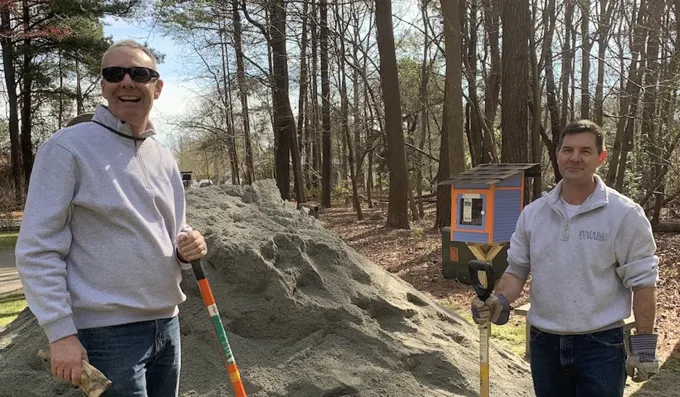 Waterfront Law Team Volunteers at Hoffler Creek Wildlife Preserve
Waterfront Law Team Helps Resurface Trails
On the second Saturday of every month, the Hoffler Creek Wildlife Preserve in Portsmouth, VA hosts a Volunteer Work Day. On March 14, several Waterfront Law Team members and their families helped with a trail resurfacing project.
For three hours, Jim Lang, Jeff Wilson, Bryan Peeples and Bryan's two sons transported and applied "stone dust" (or "crush and run") to the Bluebird Trail. The Bluebird Trail is so named because there are bluebird boxes lining the trail as it leads to the Salt Marsh Overlook. The team worked to rehabilitate approximately 300 feet of the 1000 foot trail. Using stone dust allows for the trail to be accessible to strollers and wheelchairs.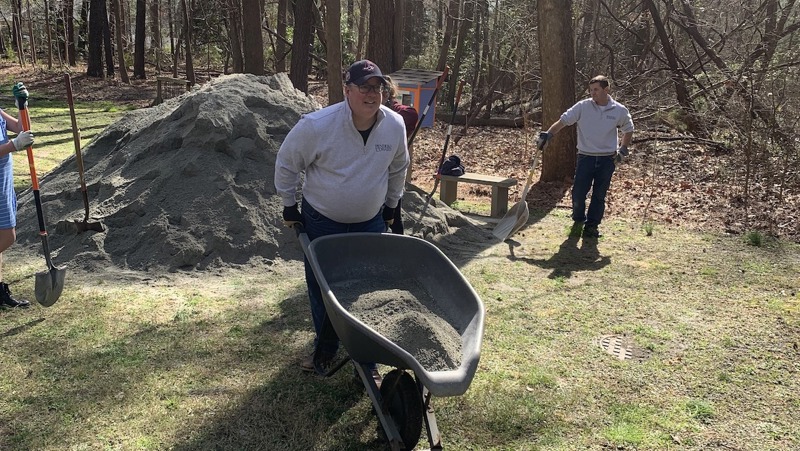 Photo: Jeff Wilson uses a wheelbarrow to move stone dust on the Bluebird Trail. Yes, it was heavy work - but our team isn't afraid of the working end of a wheelbarrow or shovel!
"Jim Lang and his team from Pender & Coward were wonderful to work with," said Heather Key, Community Coordinator for Hoffler Creek Wildlife Preserve. "Along with a few other volunteers, they helped Hoffler Creek Wildlife Preserve with a much needed trail resurfacing project. The team was energetic and willing to help."
The Waterfront Law Team was happy to spend a few hours helping maintain this terrific community space. We hope you get out there and enjoy the trails soon!
About the Hoffler Creek Wildlife Preserve
The Hoffler Creek Wildlife Preserve consists of 142 acres at the mouth of the James River. It connects to the Chesapeake Bay through the harbor of Hampton Roads and is bordered by Hoffler Creek. John Wright Ballard, Sr. was the original owner of the farmland that would become Hoffler Creek Wildlife Preserve.
The city of Portsmouth took ownership of the land in the 1990s, and turned it over to the citizens for management. The Hoffler Creek Wildlife Foundation was created for this purpose. Today, this gorgeous preserve functions to conserve the last parcel of wilderness in the Hoffler Creek Watershed and offers hiking trails, docks, kayaking, bird watching, oyster gardening, picnicking, and educational programs.
Our Waterfront Law Team is extremely passionate preserving and improving the nature in Virginia. To learn more, feel free to contact us here.