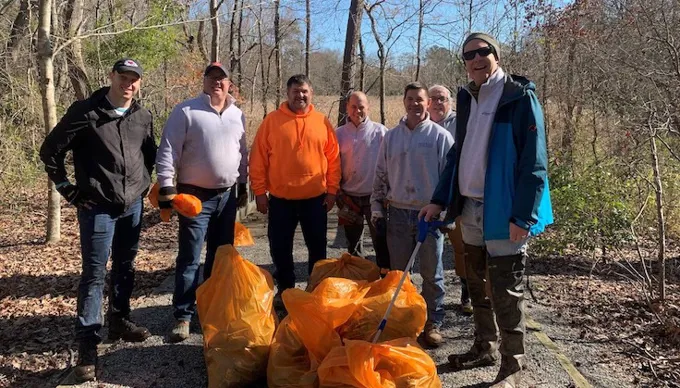 Virginia Waterfront Law Firm Helps Clean Banks of Lynnhaven River
Waterfront Law Team Participates in Waterway Cleanup
On February 8, 2020 Jim Lang and members of the Pender & Coward Waterfront Law Team along with their families participated in a cleanup of the banks of the Lynnhaven River at the Francis Land House. Last year, the Waterfront Law Team participated in a similar cleanup event at the Pinetree Branch of the river. This year's cleanup was another successful morning spent "Restoring Virginia Beach Waters."
"Last year our team helped LRN remove more than 2,200 pounds of trash from the Pinetree Branch of the Lynnhaven River," said Jim Lang. "We showed up again this year, and we especially appreciated that our friends at MSA and Draper Aden Associates accepted our invitation to be a part of this cleanup, which included removal of a tire and a door from the Pinetree Branch - along with bags and bags of soda bottles, oil cans, cigarette butts, beer bottles, styrofoam and plastic."
Lynnhaven River NOW
The land-based cleanup effort was organized by Lynnhaven River NOW. These cleanup events take place on the second Saturday of every month (except December). On this particular Saturday, 67 volunteers removed 924 pounds of trash from the Francis Land House, its conjoining park and the wetland edges of the surrounding area.
Helen Kuhns, the Assistant Director and Pearl Programs Coordinator at Lynnhaven River NOW, said, "Volunteers, such as those from Pender & Coward, are critical to our community's success in achieving clean water. Pender & Coward volunteers always show up as a cohesive team ready to work, get muddy and make our streams, inlets, and open waters cleaner. Lynnhaven River Now is grateful to have outstanding community partners in the Pender & Coward team and look forward to continuing that partnership as we pursue our goal of clean and healthy water throughout Virginia Beach."
Giving Back to the Virginia Waterways Community
When asked about the event, Laney Zimmerman Brown, Title Underwriter and Manager for Lawyers Title of Southeastern Virginia, said, "I always look forward to supporting the team from Pender & Coward as they participate in monthly waterway cleanups through Lynnhaven River NOW. It's amazing the impact we can have on our waterways when we all pitch in and donate our time and energy to keeping the Lynnhaven litter free." Jeffrey Vierrether of MSA added that there is "no better way to start the day than by making a positive difference in your environment."
Our team is passionate about all of the environmental preservation work we've done throughout Virginia. To learn more about our work and our team, feel free to contact us here.