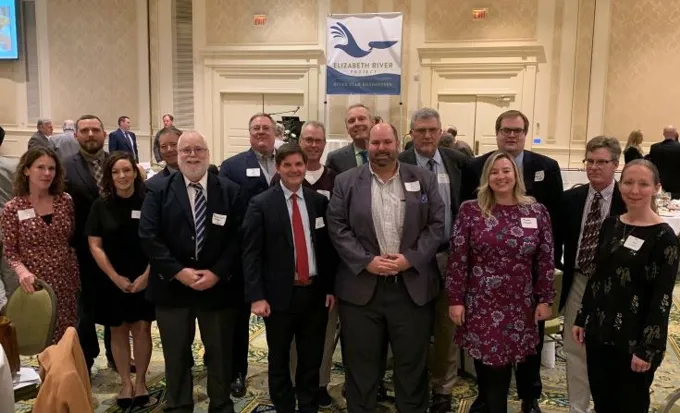 Waterfront Law Team and guests at the Elizabeth River Lunch
Waterfront Law Team Recognized with River Star Business Volunteer of the Year Award
On Thursday, January 19th, the Waterfront Law Team, along with 400 business and environmental leaders from across Hampton Roads, attended the River Star Business Award Lunch, hosted by the Elizabeth River Project at the Founders Inn in Virginia Beach.
We were thrilled to be recognized with the River Star Business Volunteer of the Year Award!
"It was no contest in deciding what River Star Business would win the inaugural River Star Business Volunteer of the year award – Pender & Coward was the resounding choice. Pender & Coward's community service ethic is almost one of legend – I use the example of planting 130 trees for their 130th anniversary often to other River Star Businesses who are always impressed with the idea and the effort. Then there's "Restore the Shore" – another all-in effort. Pender & Coward folks are not afraid to get dirty in doing something beautiful for the river and that's what it's going to take to make our port river healthier. Thanks to Pender & Coward for being a shining example of environmental stewardship of the Elizabeth," said Pam Boatwright, Deputy Director Administration & River Star Business Program Manager, The Elizabeth River Project.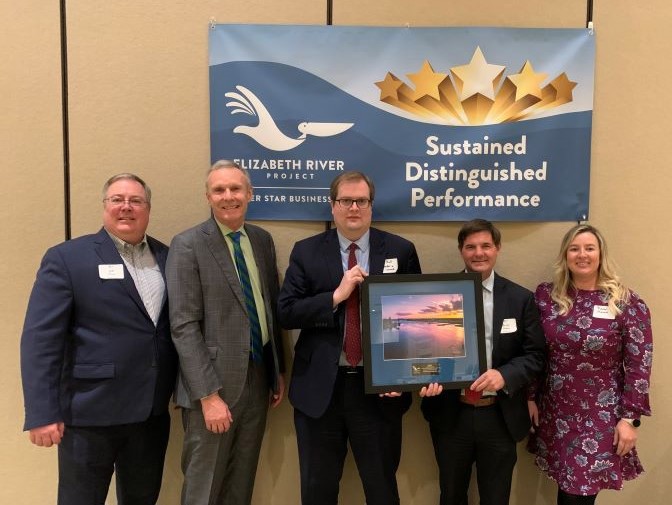 For years, our firm has supported ERP's work. We were proud to partner with them, and the City of Norfolk, in the Restore the Shore project, on behalf of our client, we used the federal Clean Water Act citizen's suit provision to eliminate a 30-ship "floating junkyard" that was rotting in a waterway off the eastern branch of the Elizabeth River (adjacent to Riverside Memorial Park). We returned this past June to remove about a ton of trash that had accumulated since 2016 and, now, Norfolk has secured grant money to build a living shoreline there.  We can't wait to see it! 
ERP recognized our firm as a River Star Business because of our work on that waterway, because we adopted several environmentally friendly practices at our office, because a few years ago our attorneys stopped billing clients for a day while they got behind the working end of a shovel to plant $10,000 worth of trees that the firm donated to Southside Hampton Roads, and because we send our attorneys out on weekends to help maintain Paradise Creek Nature Park or remove garbage from our waterways. 
If you would like to learn more about the Elizabeth River Project or how you can support their restoration efforts through the River Star Business Program, please visit here.