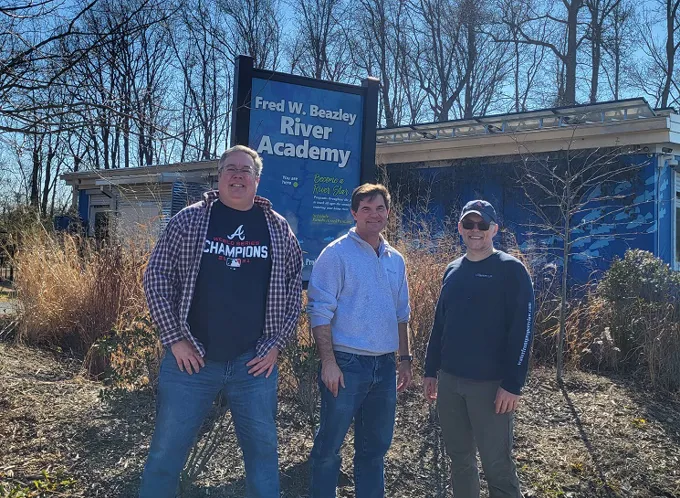 Jeffrey Wilson, Bryan Peeples and Thomas Berkley of the Waterfront Law Team
Waterfront Law Team Supports Elizabeth River Project
Last Saturday, February 12, members from the Waterfront Law Team volunteered with the Elizabeth River Project at Paradise Creek Nature Park. Our team cleared and mulched the area's scenic overlook in what will eventually become the Park's new cedar grove, affectionately known as Tree Henge.
"We worked on a project called "Tree Henge" which is a circle of trees that will mark the summer and winter solstice. The sun on the morning of the summer and winter solstice will rise and a gap in the trees will align perfectly with the rising sun. The team hauled and spread over 3 yards of mulch at the top of the mound, that just happens to be the highest spot in Portsmouth! The Waterfront Law Team always comes through for us and we look forward to our next project together," said Larry LaPell, Park Operations Manager, Paradise Creek Nature Park.
Paradise Creek Nature Park is the third largest public park in the City of Portsmouth. The Elizabeth River Project raised the funds to buy and improve the site and now operates the park's environmental education, restoration, and volunteer programs. And in 2012, the Port of Virginia restored the park's 11 acres of wetlands, brining back part of the Elizabeth River that was filled in the 1950's.
Thanks to the work by Bryan Peeples, Thomas Berkeley, Jeffrey Wilson and Claire Heiserman of the Waterfront Law Team as well as the Elizabeth River Project volunteers, Paradise Creek will have a beautiful scenic overlook that is covered with cedar trees for all to enjoy.
Interested in volunteering with The Elizabeth River Project? Click here to learn about their litter cleanup and restoration volunteer opportunities.