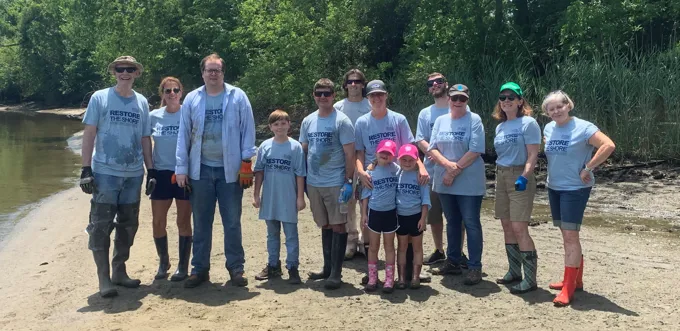 Restore the Shore 2022 - Community Volunteers
Restore the Shore 2022 - Community Cleanup
On Saturday, June 11, Pender & Coward along with community partners Elizabeth River Project and City of Norfolk rallied volunteers to return to our adopted shoreline along the Elizabeth River to clean up 1,200 pounds of debris that had accumulated since the team's original Restore the Shore 2016.
"Saturday's 'Restore the Shore' litter cleanup with The Waterfront Law Team/Pender & Coward was a huge success! Their group of 14 volunteers (including 3 of the teams' children) gathered at Riverside Memorial Park on the Eastern Branch of the Elizabeth River, and collectively picked up 260.5 pounds of bagged trash and roughly 1,000 pounds of larger debris items including metal scraps, tires, and 10 long marine lines.
Thank you, Pender & Coward team, for your continued support, dedication, and passion for making the Elizabeth River a cleaner and healthier place for all!" said Kayla Gradwell, Volunteer Coordinator, Elizabeth River Project.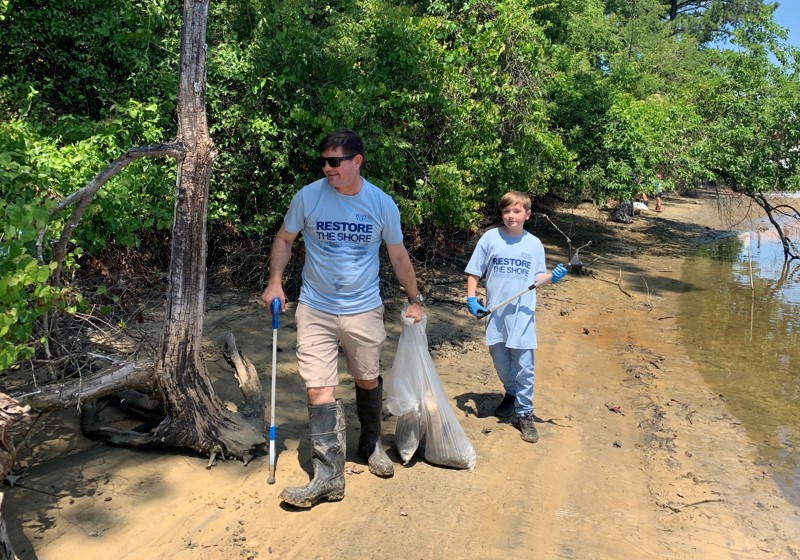 Bryan and Oliver Peeples
The cleanup took place at the Riverside Memorial Park off Indian River Road in Norfolk, VA. Riverside Memorial Park was established by a private company in 1910 in the Campostella Heights area of Norfolk. The City of Norfolk purchased it in 1971. Since 1995, over 200 trees have been planted at Riverside as part of an ongoing urban forestry program thereby contributing to the arboreal ambience of the park. The park features a unique design, like that of a spoke of a wheel, and includes a cemetery with many large family monuments in the older sections of the park. Riverside Park was once the home of a large bell tower built in the main circle. The bell would chime when funeral services were conducted. The US Army used the bell tower as a lookout during WWII as Riverside is one of the highest points in Tidewater. A US Army camp was maintained in the back of the cemetery during that time for the same reason.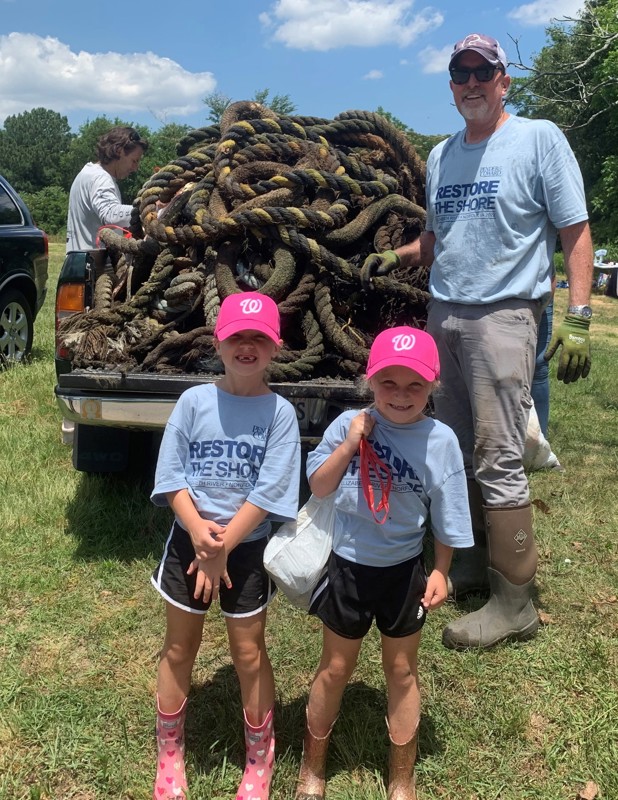 Page Simpson, Perry Wilcox and Reid Wilcox
Our team originally visited the Park in 2016. At the time, Jim Lang helped a Norfolk client eliminate a "Floating Junkyard" of 45 vessels, some that were 250 feet in length, along the client's waterfront property. This fleet of rusting hulks, many of them sitting on the bottom of the Elizabeth River, were clogging the river at our client's waterfront property. The owner of the Floating Junkyard was appropriating our client's riparian property rights. Jim used the federal Clean Water Act to file a citizen's environmental lawsuit in U.S. District Court that forced the owner to remove the vessels. Once the ships were gone there remained a badly battered shoreline, covered with rubbish and debris. Thus, Restore the Shore was born! Click here to read more.
If you are interested in participating in a future cleanup or have a potential cleanup site in mind, don't hesitate to reach out to Jim and the team. We are always looking for more community partners to keep our waterways clean.