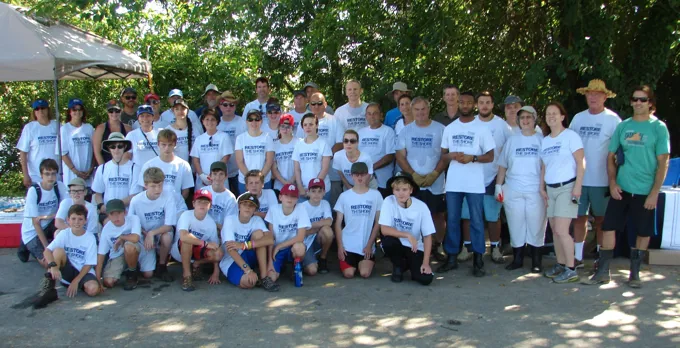 Volunteer Photo from Restore the Shore 2016
Restore the Shore 2022
In 2016 Pender & Coward attorney Jim Lang helped a Norfolk client eliminate a "Floating Junkyard" of 45 vessels, some that were 250 feet in length, along the client's waterfront property. This fleet of rusting hulks, many of them sitting on the bottom of the Elizabeth River, were clogging the river at our client's waterfront property. The owner of the Floating Junkyard was appropriating our client's riparian property rights (riparian property rights are often the greatest element of value of waterfront property). Jim used the federal Clean Water Act to file a citizen's environmental lawsuit in U.S. District Court that forced the owner to remove the vessels. Once the ships were gone there remained a badly battered shoreline, covered with rubbish and debris. Jim spearheaded the cleanup of that shoreline six years ago in a project called "Restore the Shore". With help from the Elizabeth River Project, Kerr Environmental Services, Valbridge Property Advisors, City of Norfolk, the Boy Scouts, Bridge Trust Title and Pender & Coward, Jim marshalled a group of more than 50 dedicated volunteers who worked a hot Saturday in August to remove all of the trash and debris from that shoreline . . . so much garbage that it filled the industrial size (20 cubic yard) dumpster furnished by City of Norfolk.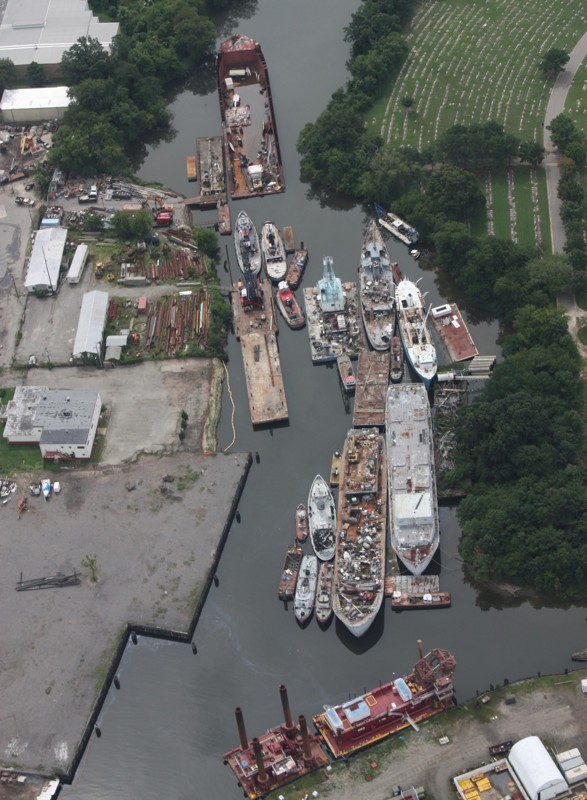 Aerial image of the "floating junkyard"
Having "adopted" this shoreline, Pender & Coward has kept its eyes on its condition in the six years since the 2016 cleanup. Trash has accumulated once again so Jim is organizing Restore the Shore 2022! The Waterfront Law Team of Pender & Coward is once again teaming up with the Elizabeth River Project and the City of Norfolk to provide some much-needed TLC for the waterway along the Riverside Memorial Park in Norfolk.
Restore the Shore 2022 will take place (rain or shine!) on Saturday, June 11th from 11:00 AM to 12:30 PM, followed by lunch.
Please email Abigail Wilcox (abigailmwilcox3@gmail.com) by Tuesday, June 7 to participate. The Elizabeth River Project is capping the number of volunteers at 30 for this event.
Join us! We look forward to seeing you there!