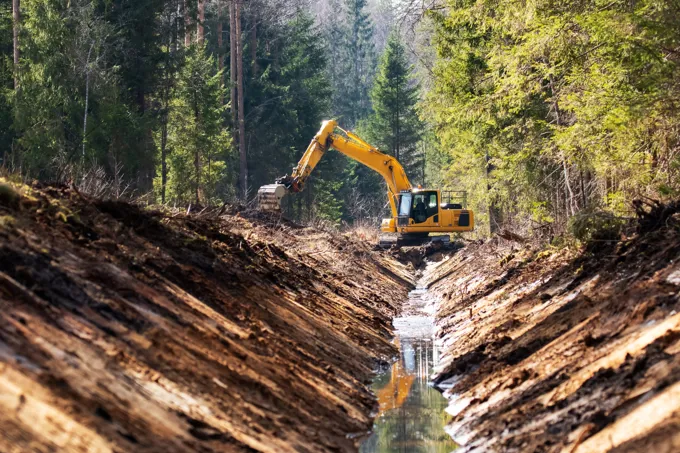 Drainage Ditch
Shutterstock: AdamIKarl
How the Wetlands Laws Apply to Drainage Ditches
Introduction
Ditches are used all over Virginia. Each is a linear depression in the ground, created to channel and transport water. Some ditches transport water for irrigation use, typically plant irrigation. Other ditches transport stormwater, which controls flooding. The former types of ditches are called "irrigation ditches". All other ditches, including those that transport stormwater (to control flooding) are called "drainage ditches". This article describes how the wetlands laws apply to drainage ditches.
Why Speak of the Wetlands Laws and Ditches in the Same Breath?
Wetlands are nowhere mentioned in the Clean Water Act (CWA). Still, the wetlands program is the CWA's most controversial regulatory program. The reason is that the concept of "wetlands" extends inland the regulatory reach of the CWA. Sometimes, a great distance inland. It interferes with land use planning, traditionally a local government prerogative.
My article in this blog, Environmental Law: The Supreme Court's Hawkes Co. Decision May Help Save Your Project When Wetlands are Present, explains how the transitional strip of soggy land lying in the zone between a water body, and the dry land above it, came to be known as "wetlands". It takes no great imagination to see how the three ingredients that the Army Corps' 1987 Delineation Manual states as being essential to every wetland – hydrophytic vegetation, hydric soil and wetland hydrology – would easily be found in a ditch.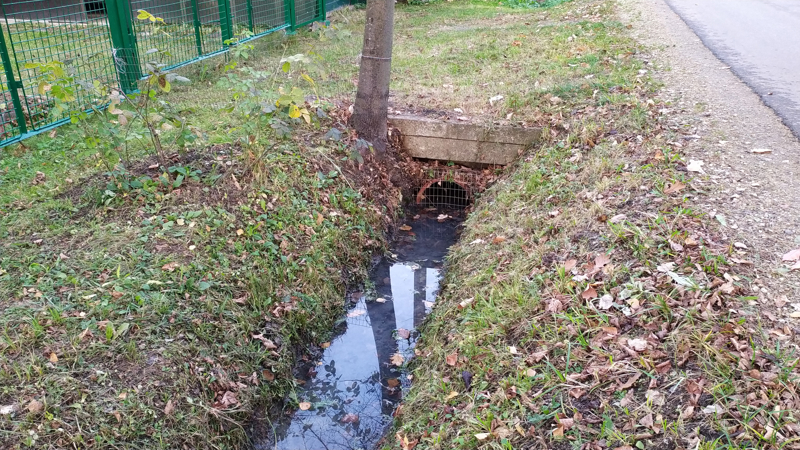 Shutterstock: Aegolk
It's Risky to Alter Conditions in a Ditch Without Carefully Thinking About Whether a Wetlands Permit is Needed
Flood-prone neighborhoods, particularly those in the sea-level-rise-impacted areas of coastal Virginia, want drainage ditches that efficiently carry away water, in channels that are free of debris-caused, sediment-caused, and vegetation-caused clogs. The dangers posed by sea level rise, and the solutions to those problems, are covered in a variety of articles in this blog: Virginia's Rising Sea Level Needs a Regional Solution, Protecting Virginia Waterfront Properties From Rising Sea Level, Virginia Increases Waterfront Property Owners' Resilience to Natural Hazards, How Virginia Riparian Property Owners are Threatened by Rising Sea Levels, How RGGI Helps Waterfront Property Owners Preserve Property Value. Suffice to say, though, that those who construct and maintain drainage ditches are wise to use care when facing the question of whether a wetlands permit is needed.
There are two bodies of wetlands law, federal and state. The price of miscalculation can be steep. The CWA offers a range of administrative, civil and criminal sanctions that, in the most severe instance might include imprisonment up to six years and a fine in the 100's of thousands of dollars (33 U.S.C. §1319). Virginia adopted laws at the state level that extend the reach of the wetlands laws into areas much further inland, as compared to the CWA, but generally offer lesser periods of incarceration and smaller fines, as compared to the CWA. There is also the wild card of citizen-suit enforcement, which enables a citizen to civilly enforce the wetlands laws in those situations where the federal and state regulators failed to go after a violator. These various points are discussed in detail in my article in this blog, Wetlands law and Regulation in Virginia.
Is a Wetlands Permit Needed to Construct or Maintain a Drainage Ditch?
Congress wrote the CWA in a way that exempts maintenance of a drainage ditch from wetlands regulations in most instances. The exclusion is found at 33 U.S.C. §1344(f)(1)(C) which states that "maintenance of drainage ditches . . . is not prohibited or otherwise subject to regulation" under the federal wetlands law. The Army Corps of Engineers July 4, 2007 Regulatory Guidance Letter defines "drainage ditch" and the closely related term, "maintenance". So long as the activity is "maintenance" and takes place in a "drainage ditch", no federal wetlands permit is required.
Virginia takes a comparable approach, as seen at 9 VAC 25-210-60 (10)(d): "The maintenance dredging of existing ditches is included in this exclusion provided that the final dimensions of the maintained ditch do not exceed the average dimensions of the original ditch." Similar to the Army Corps, the Virginia Department of Environmental Quality likewise promulgated a state-level guidance document entitled Guidance Memorandum No. 08-2004, Regulation of Ditches under the Virginia Water Protection Permit Program.
The foregoing explains how the exclusion shields from the wetlands law only those activities deemed "maintenance". There is no exclusion to shield "construction" of a drainage ditch from the operation of the wetlands laws.
All of this, though, provided no comfort to the person who asked our Waterfront Property Law Team to assist him after the Army Corps initiated enforcement against him after he modified a drainage ditch by installing a pipe to transport the water and then covered the ditch (and the pipe) with earth. Installation of the pipe fails the definition of "maintenance". It is more akin to "construction". So too, filling the ditch with earth. Another example of ditch modification that does not qualify as "maintenance" is increasing the depth of the ditch during the process of removing sediment accumulation. There are further examples in the sources we offer to your attention in this article. It is wise to make familiarity with these sources a part of any maintenance program used in connection with drainage ditches.
Shutterstock: Erik Stawinski
Conclusion
The attorneys on our Waterfront Property Law Team have strong connections and significant legal experience. As you can tell from the time a few years ago when one of our attorneys removed his shoes and got in the water to fend off a criminal enforcement action being filed against our client, we go the extra mile for our clients, if that is what is needed to get the job done.
Contact Jim Lang if you would like to see him publish more information on how the wetlands laws affect waterfront property owners in the state of Virginia. Of course, you can always contact Jim for his advice and assistance in connection with needs specific to your particular situation.