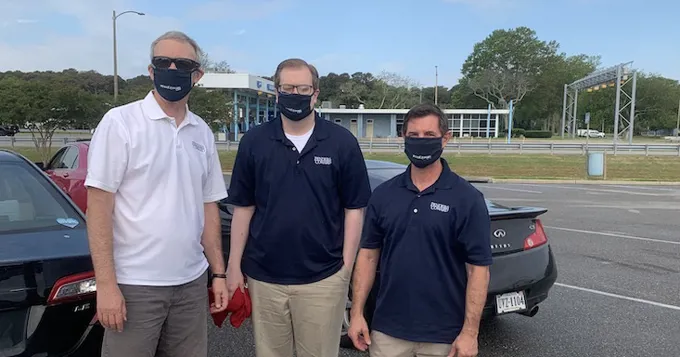 Supporting Virginia's Eastern Shore Amidst COVID-19 with "Shore Delivery Corps"
Volunteering with "Shore Delivery Corps"
On June 6, our waterfront law team revisited the Eastern Shore for the first time since the beginning of the pandemic. We volunteered with "Shore Delivery Corps", an all-volunteer grass roots group headed by Jeff Holland, to deliver much-needed supplies to people shut-in by the coronavirus.
Similar to our first volunteer outing, Bryan Peeples, Matthew Hull, and I were all assigned to different regions. I covered southern and central Northampton County. Matthew Hull covered northern Northampton County and southern Accomack County. Bryan Peeples covered the rest of Accomack County. For a half day on Saturday, the three of us provided the delivery capability for the entire Eastern Shore of Virginia.
"Shore delivery Corps volunteers and the Eastern Shore greatly appreciate Pender & Coward's selfless service on Saturday June 6th," said Shore Delivery Corps leader Jeff Holland. "At a time when COVID-19 is still a critical concern on the Eastern Shore, we appreciate Pender & Coward providing relief to our volunteers who together have provided over a thousand deliveries to Eastern Shore residents in the last 11 weeks. Words cannot aptly express our sincere appreciation."
The Pandemic's Impact on Virginia's Eastern Shore
According to The Virginian Pilot, Accomack County leads the southeast region in COVID-19 cases with 970 confirmed cases and 13 deaths to date. This coronavirus hot spot is also home to two meat processing plants, Tyson's Chicken and Perdue Chicken, which is the main industry in the county.
The Washington Post writes about the increase in cases linked to these factories, and the concerns of overwhelming local hospitals. Northampton County and Accomack County are entirely rural and contain no cities, and aren't equipped with as many resources compared to other regions of Virginia.
Poultry Farming on the Eastern Shore
These meat processing plants have not only impacted the number of COVID-19 cases in the county, but there have been a number of environmental issues generated by these plans in the Eastern Shore as well. Our very own Bryan Peeples took an in-depth look at how waste from poultry farms are harming the environment, and examined different nitrogen runoff studies conducted by the Virginia Institute of Marine Studies.
Our Jim Lang Waterfront Law Team cares about our communities, and works hard to give back to them. If you'd like to learn more about our volunteer work or how you can help give back, feel free to contact us here.