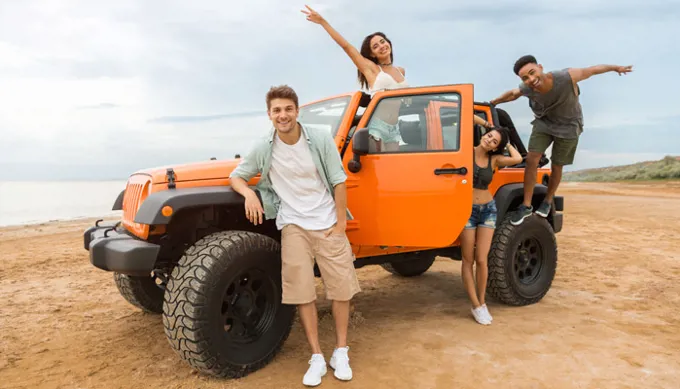 Dean Drobot/Shutterstock.com
Waterfront Property Rights for Parking Cars at your Beach Property
Waterfront Property Rights For Parking
The Virginia Beach Oceanfront is a very popular tourist destination. It is also home to waterfront property owners who paid a hefty premium to live near the water in this resort area. Visitors and homeowners alike share a strong interest in preserving their rights to park on the Oceanfront, but the laws are rather complex and penalties for non-compliance can be severe. Let's take a closer look at some of the particulars and commonly asked questions. Additionally we'll walk through a detailed example to help explain waterfront property rights for parking.
Parking Cars At Your Virginia Beach Property
Beautiful beaches, exciting nightlife, and one of the longest beachfront boardwalks in the United States make the Oceanfront area of Virginia Beach a premier vacation and tourism destination. During the spring and summer months thousands of local residents and tourists flock to the beach. But before those non-resident beachgoers can enjoy the sun and the sand, they have to find a place to park.
Waterfront Property Owners Want Parking Spots for Themselves
Finding a place to park the car is no easy task, as parking near the beach is scarce. The North End in Virginia Beach is notorious for having a very limited amount of parking, for both visitors and property owners. While tourism is vital to the local economy, the rights of waterfront property owners must also be protected. Property owners with lots near the beach paid a hefty premium to live near the water. They have a vested interest in preserving and maintaining their parking rights so that they too can enjoy the beach and their property.
North End Property Owners
Several North End property owners approached our waterfront law team with questions about their property rights with respect to parking. Their main concerns are towing, signage, and fines. For example, they want to know when a beachgoer's car can be towed off of their property and whom they can call to have it done.
They also ask if they are legally allowed to erect "No Parking" signs on or near their land, and what fines apply to illegal parking. This article tackles those questions and paints a general picture of what a North End property owner's rights are with respect to parking.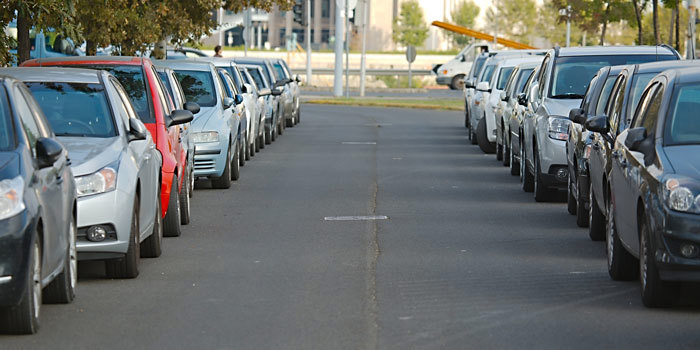 Peter Gudella/shutterstock.com
Are My Beachfront Parking Spots on Private Property or Public Property?
Each property owner's rights are fact-specific and depend on the owner's parcel and accompanying parking. A property owner's deed, recorded with the City of Virginia Beach, ultimately governs how much land is owned. However, in the absence of a deed, the VBgov City Map can be used to give a rough estimate of the property boundaries.
Can I Have A Car Towed From My Waterfront Beach Property?
Whether a property owner can have a car towed depends on whether the land upon which the car is parked is privately or publicly owned. In many instances property owners may be surprised to find that they do not own as much of the land in front of their homes as they thought they did.
Parking and Towing Property Rights Example
To illustrate this, the image below is an aerial view of the "ocean side" of 76th Street. The gray shading represents privately owned land and parking lots. The faint orange lines represent parcels.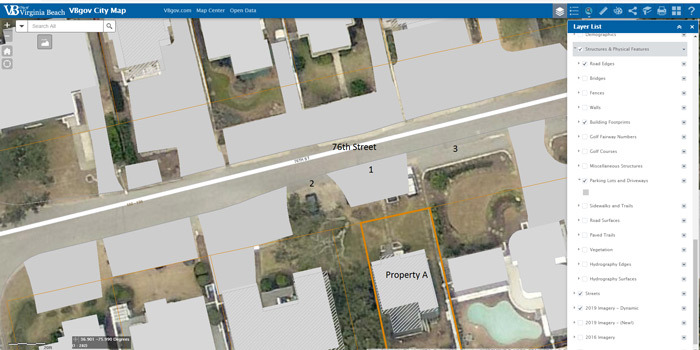 Hypothetically speaking, assume the parking lot labeled 1 belongs to the owner of Property A ("Owner"). Assume the Owner has five family members living in Property A, each of whom has a car and has been parking on the street for over twenty years. When Owner's family fills up the parking in lot 1, they park their other cars on the land labeled 2 and 3.
One sunny day in July, Owner discovers that beachgoers have parked on the lots labeled 2 and 3, leaving no room for his family to park. Owner wants to get the cars parked on lots 2 and 3 towed so that his family members can park there. What rights does Owner have?
What Rights Does The Property Owner Have?
To determine Owner's rights, we must first determine whether the land is private property or public property. The parking lot labeled 1 is private property, as the gray box reflects that it is deeded to Owner. On the other hand, the lands marked 2 and 3 are publicly owned lands. As will be explained presently, Owner had certain private property rights with respect to his parking lot (lot 1). But, Owner has no private rights with respect to the lots labeled 2 and 3. Nonetheless, in certain instances Owner may request that penalties, in the form of towing and fines, be imposed upon people who improperly park on these public lands.
Can Property Owner Claim Adverse Possession?
Now suppose that Owner claims that because his family has been parking on the public lands for many years, he has gained ownership of the public land through "adverse possession," and/or a right of way to use the land for parking through "easement by prescription." This claim is not supported by the law. The length of time that Owner's family has parked on lots 2 and 3 is irrelevant to Owner's rights with respect to publicly-owned land. Since lots 2 and 3 are not deeded to Owner, the Commonwealth owns that land regardless of how long Owner has parked there and regardless of whether the Commonwealth explicitly appropriated that land.1 Therefor, lots 2 and 3 constitute public unappropriated land and do not belong to Owner.
DRogatnev/Shutterstock.com
Private Property Signage and Towing
In Virginia Beach when cars park on an owner's private land, the owner may have the cars towed by a towing company, but only when certain conditions are met.2
1. An owner of private property who intends to enforce parking restrictions by the use of a tow truck service must post a sign at each point of entry and exit with the appropriate version of the following language:3
PRIVATE PARKING

RESIDENTS/LESSEES/GUESTS ONLY

TOWING ENFORCED

[HOURS OF ENFORCEMENT]

Unauthorized cars towed at owner's expense $_________ day or night.

Call [telephone number of tow truck service] for location and information concerning return of car if towed.
2. For each separate instance of towing, the property owner or her agent must furnish written authorization to the tow truck driver identifying "the vehicle to be towed by make, model, and color" and including the owner or agent's name and signature.4
3. There must be "a written contract between the tow truck service and the owner, lessee or agent of the parking area to remove all unauthorized vehicles from the parking area."5
Absent other exigent circumstances, compliance with (1) signage, (2) a specific written request, and (3) a towing contract, enables a property owner to have cars towed from her property.
However, this is not all. The Virginia Beach Code imposes various other requirements for the appropriate towing signage. For example, the Code requires that unless otherwise provided, no signs (including the "No Parking" signs described above) can be displayed without the owner first obtaining a sign permit.6
Owners Must Obtain a Sign Permit
The penalties for non-compliance with this ordinance are far more severe for the property owner seeking to improperly have a car towed than for the driver who parked on the owner's land. In fact, a property owner who fails to comply with the requirements for having cars towed from his property risks prosecution for a Class 1 misdemeanor (up to 12 months jail and $2,500 fine), and each day of incompliance is a separate violation!7
Therefore, a property owner would be well-advised to become familiar with the Code and consult legal counsel prior to posting signs or seeking to have vehicles towed.
Public Property: Towing and Fines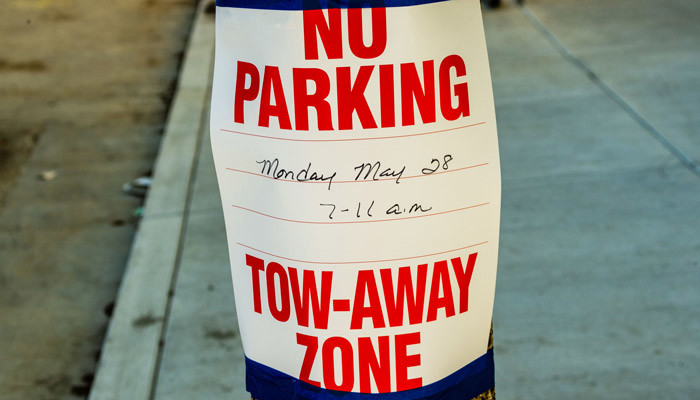 Mark R. Coons/Shutterstock.com


Cars parked on public streets or other public property can only be towed in limited circumstances. Whereas cars illegally parked on private property can be towed by private towing companies as long as the requirements of the ordinance are met, the City of Virginia Beach website confirms that local police departments are in charge of coordinating towing for cars illegally parked on public property.8
The City of Virginia Beach website also makes clear that cars (1) parking in front of a fire hydrant, or (2) blocking access to a private driveway, will be towed if reported. Additionally, according to the Virginia Beach Police Department policies, vehicles constituting traffic hazards can also be towed. In addition to the possibility of being towed, various fines can be imposed on those who park on public property. The owner of a car parked in a place that impedes traffic-flow on a street or renders it dangerous can be fined $35 an hour.9
Additionally, one can be fined $20 an hour for parking on a sidewalk or crosswalk, or for preventing the use of a curb ramp to access public property or private property which is open to the public.10 Furthermore, one can be fined $50 an hour for failing to "display valid and current state license plates."11
Therefore, in the above hypothetical on 76th Street, even though the oOwner does not have rights with respect to lots 2 and 3 he may call the local Virginia Beach Police precinct and request that the Police enforce against the violator by imposing penalties in the form of towing or fines.
In Conclusion
Owning waterfront property is a dream-come-true for many, but it can also be complicated. If you are thinking of buying waterfront property, or if you have any other concerns about riparian property rights, contact Jim Lang and his team of waterfront lawyers. We're standing by and ready to help navigate your unique situation - Click here to Schedule Your Consultation.
---
1 See Norfolk & W. R. Co. v. Waselchalk, 244 Va. 329, 331 (1992); Seekright v. Lawson, 35 Va, 458, 464 (1836).
2 See Virginia Beach Code § 21-400 et seq.
3 Virginia Beach Code § 21-403.
4 Virginia Beach Code § 21-403.1.
5 Virginia Beach Code § 21-410.
6 Virginia Beach Code § 210.1 & .2.
7 Virginia Beach Code § 21-402.
8 See also Virginia Beach Code § 21-402 (permitting private towing vehicles only to tow on private property).
9 See Virginia Beach Code §21-303.
10 See Virginia Beach Code §21-303.
11 See Virginia Beach Code §21-303.