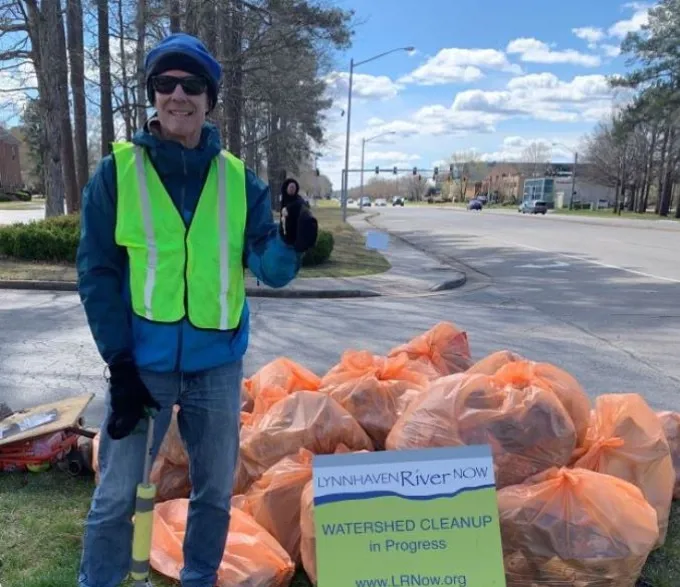 Jim Lang, Waterfront Law Team
Waterfront Law Team Supports Lynnhaven River NOW
On a blustery 39-degree Saturday, Lynnhaven River NOW, our community partner, mustered an army of 40+ volunteers that picked up 980 pounds of trash and debris from West Neck Creek in Virginia Beach (a tributary of the Lynnhaven River).  The Waterfront Law Team is proud to support the great work that this nonprofit delivers to the community. We look forward to the next opportunity to partner with LRN in their important work.
Vince Bowhers, Conservation Landscaping Coordinator, Lynnhaven River NOW said of the Waterfront Law Team and community volunteers, "It is true that we can't clean our way out of this mess until we stop the litter at its source by changing people's behaviors, but can you imagine how much trash would make it into our waterways if we didn't have these dedicated volunteers doing everything they can right now? These selfless heroes are the stewards of our community's waterways, and we can't thank them enough."   
Bottles, fast food containers, and plastic bags formed a major part of the debris that was found on Saturday. However, the attorney from our Waterfront Law Team focused his energy on removing cigarette butts, of which there were many. He picked up and removed about 1,000 of them. Had he not done this, those cigarette butts would likely wash into the creek where they would be mistaken for food by fish, birds, and turtles. Even when the cigarette butts are simply floating free in the water, the chemicals trapped in the filter during smoking are toxic to marine life. Those chemicals include formaldehyde, nicotine, arsenic, lead, copper, chromium, cadmium, and a variety of polyaromatic hydrocarbons. When marine wildlife eats a cigarette butt these toxic chemicals uptake into the food web, creating risk to the other animals in the food chain, and placing human health in jeopardy.  But an animal need not ingest the cigarette butt for it to put human health at risk. When a cigarette butt enters the creek, exposure to the water causes these toxic chemicals to leach from the cigarette butt, creating risk to the food web and to human health. Even if the cigarette butt never reaches the creek, a study published in the Environmental Research Journal, confirms that a rain event, through a process known as "leaching", can cause these toxic chemicals to easily become bioavailable "and reach the aquatic and terrestrial environments".
Overall, in 2022, volunteers working with Lynnhaven River Now eliminated 12,000 pounds of trash from the Lynnhaven River and its tributaries. Looking to help our local waterways? Lynnhaven River NOW holds these cleanups monthly, except for the month of December (click here if you want to sign up for a future cleanup).