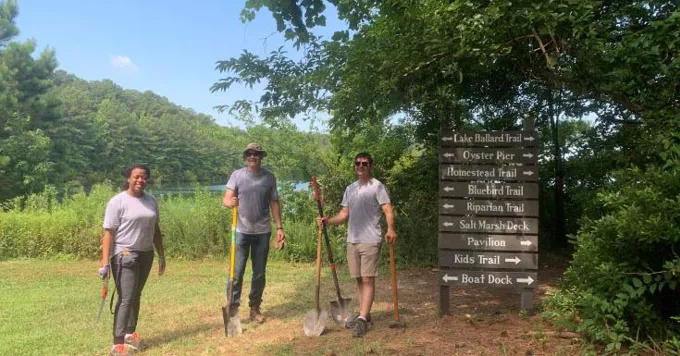 Waterfront Law Team Volunteers for Hoffler Creek Wildlife Preserve in July
Restoring Hoffler Creek Wildlife Preserve
On July 11, three members of our waterfront law team went back to help restore the Hoffler Creek Wildlife Preserve. Diamond Royster, Pender & Coward's Summer Associate, joined Bryan Peeples and me while we performed at the wildlife preserve yesterday. The three of us demolished several unneeded structures, such as a 10-foot tall kiosk in the parking lot area, used a variety of tools to transport clean soil to fill holes in paths, removed weeds by hand from flower beds around the office building, and applied mulch to the flower beds.
"It was great to have the help of Bryan Peeples, Diamond Royster, and Jim Lang from Pender & Coward on our Volunteer Work Day," said Heather Key, Community Coordinator for Hoffler Creek Wildlife Preserve. "Each of them worked very hard in conjunction with the other volunteers to complete multiple projects over the course of the day. They were a pleasure to work with and I hope to have them again soon!"
What is Hoffler Creek Wildlife Preserve?
Hoffler Creek Wildlife Preserve is a non-profit dedicated to conserving the Hoffler Creek watershed. The wildlife preserve offers a variety of recreational activities, such as hiking, kayaking, and more. Hoffler Creek also has a large lake that's a man-made "borrow pit" that was created when sand was mined at the property to construct sections of our major interstate highway (I-64). At its deepest point, the lake reaches about 60 feet.
Our team is passionate about volunteering to help preserve and restore nature in Virginia. Check out this page to learn more about how you can volunteer with the Hoffler Creek Wildlife Preserve.