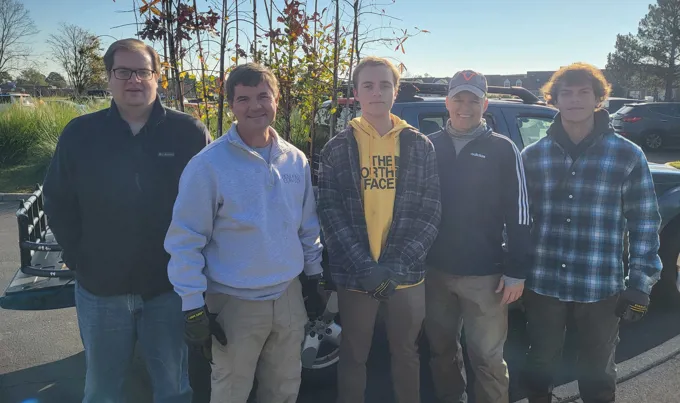 Waterfront Law Team & Family
Waterfront Law Team Helps Lynnhaven River NOW Plant Trees
In a departure from our typical volunteer clean-up efforts, the Waterfront Law Team assisted Lynnhaven River NOW in their two-day community tree planting effort last weekend. Our team joined the tree planting efforts on Saturday, November 19th. The entire volunteer group, along with the team from Lynnhaven River NOW, met at the Green Run HOA Windmill pool location, received instructions from the LRN team and then dispersed throughout the area with their pod "group" to get to planting.
WLT members Bryan Peoples, Matthew Hull and Tom Berkley, as well as additional volunteers from the Hampton Roads area, found themselves on the working end of a shovel and planted 11 different types of trees. Some of those trees that our team planted included Black Gum, Bald Cypress, Willow Oak, Sycamore, White Oak, River Birch, Eastern Redbud, Paw Paw and White Fringetree. Needless to say, this was a huge project!
The goal of Lynnhaven River NOW is clean and healthy Virginia Beach waterways. Their objectives include to identify and reduce sources of contamination in our local waterways; to educate and engage the community and partner organizations in restoring and protecting our waterways and natural areas and to restore the lost habitats such as oyster reefs, salt marshes, native plants, forests, and other buffers that help to filter polluted runoff and protest our waterways and their marine life.
To learn more about Lynnhaven River NOW and how you can support their efforts, visit here.