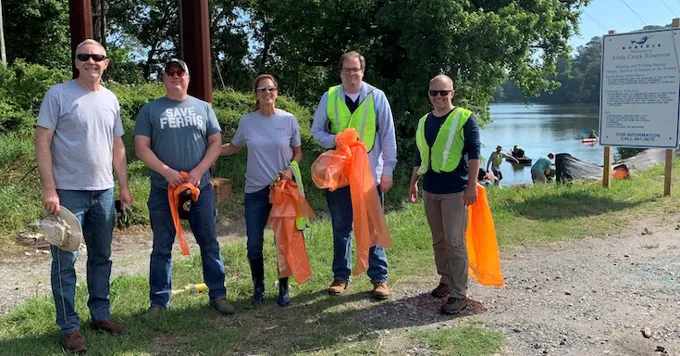 Jim Lang, Jeffrey Wilson, Mancha Stanton, Matthew Hull, and Thomas Berkley gather at the Little Creek Reservoir Cleanup.
Waterfront Law Team Celebrates Clean the Bay Day with Lynnhaven River NOW at Little Creek Reservoir Cleanup
A Chesapeake Bay community staple since its inception in 1988, Clean the Bay Day 2021 was a major success on June 5th, thanks in part to the efforts of the Waterfront Law team.
Joining forces to keep the waters of the Little Creek Reservoir clean, 66 community volunteers followed the initiatives of Lynnhaven River NOW's Vince Bowhers to tackle the cleanup. A model for community cooperation, volunteers ranged from individuals to small businesses and large corporations.
On land and in kayaks and canoes on the water, volunteers pulled a total of 619 pounds of trash out of the waterway, keeping it from ending up in the Chesapeake Bay and Atlantic Ocean.
"Always ready to lend a hand and help keep our community waterways clean and healthy, the Waterfront Law Team joined Lynnhaven River NOW for our Clean the Bay Day efforts in the Little Creek watershed," Vince Bowhers said. "It was a beautiful day to clean the bay!"
Our team, including Jeffrey Wilson, Mancha Stanton, Matthew Hull, Thomas Berkley and myself, gathered multiple bags of trash from the shoreline. Debris included the typical cigarette butts, plastic food and beverage containers, and styrofoam, but also an unusual live shotgun shell.
At Waterfront Law, we recognize the importance of keeping this staple reservoir clean. In fact, the Little Creek Reservoir is responsible for supplying drinking water to nearly 250,000 people who live in the City of Norfolk.
Though located in Virginia Beach, the reservoir is owned by the City of Norfolk. In tandem with seven other reservoirs, the water from the Little Creek Reservoir filters through one of two City of Norfolk Department of Utilities water treatment plants before being delivered to the people of Norfolk.
Thanks to the hard work of our team and the many volunteers who showed up to celebrate Clean the Bay Day, The Little Creek Reservoir continues to be a beautiful landscape for the Chesapeake Bay community.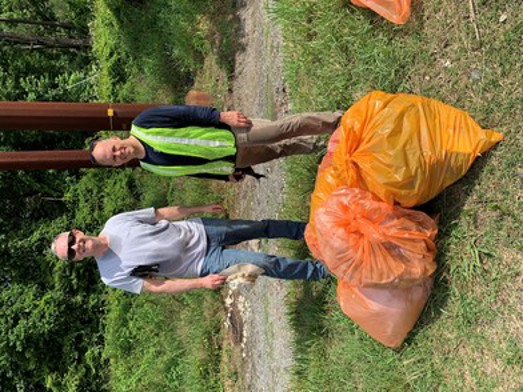 (Jim Lang and Thomas Berkley of the Waterfront Law Team)