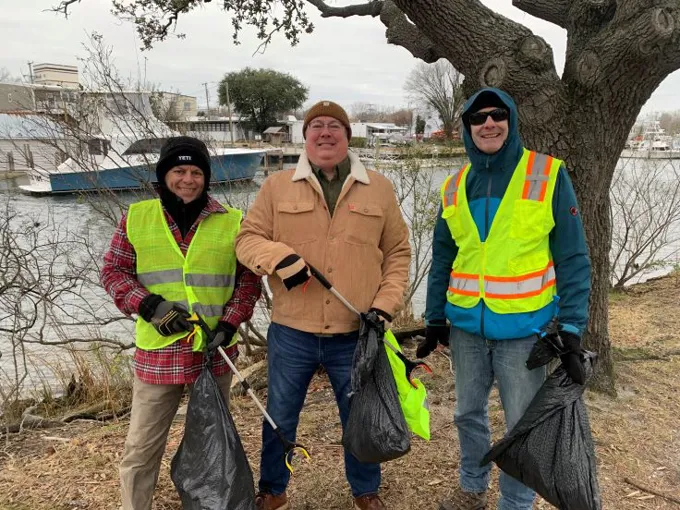 Waterfront Law Team
Waterfront Law Team Assists Elizabeth River Project in January Cleanup
January 24, 2023
Since 1993, the Elizabeth River Project has supported the restoration of one of the nation's most polluted rivers, the Elizabeth River. Their mission is to restore the Elizabeth River to the highest practical level of environmental quality through government, business, and community partnerships.
"On Saturday, January 14th, Jim Lang, Jeff Wilson, and Tom Berkley weathered the cold and came out to help with our litter cleanup at Knitting Mill Creek in Norfolk. This was our first litter cleanup of the year and thanks to our volunteers, there are now 80 less pounds of trash in the Elizabeth River. Thank you to Jim, Jeff, Tom, and all associates from Pender and Coward for doing something beautiful for the community and our home river!" said Kayla Gradwell, Volunteer Coordinator, The Elizabeth River Project.
When we say cold, the weather was 38 degrees, cloudy and windy! The Waterfront Law Team of Pender & Coward, along with community volunteers, worked quickly to remove debris from Knitting Mill Creek. Volunteering for the Elizabeth River Project allows our team to do something beautiful for the Elizabeth River. In addition to litter clean-ups, our team has also supported the Elizabeth River Project with restoration projects and volunteer opportunities at Paradise Creek Nature Park. Everyone is welcome to pitch in to keep the river and surrounding wetlands clean and thriving.
To learn more about the Elizabeth River Project, and how you can support their efforts, please visit https://elizabethriver.org/.