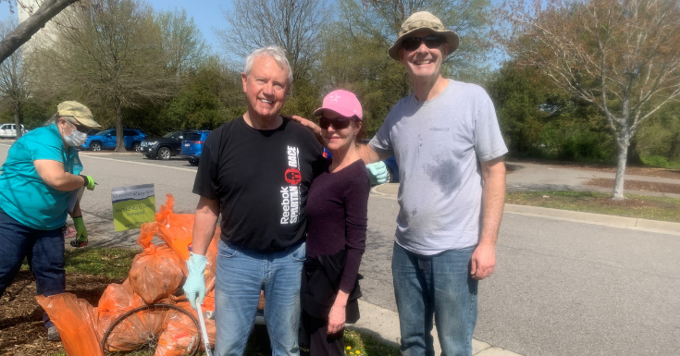 Jim Lang with Renee & Jim Flinchum of Bay Capital Advisors
Waterfront Law Team Participates in Little Neck Creek, Virginia Cleanup
On a sunny Saturday morning in April, the Waterfront Law Team, in conjunction with community leaders and volunteers, gathered at the Beach Garden Park to engage in a cleanup project of Little Neck Creek in Virginia Beach.
Under the direction of Lynnhaven River NOW, approximately 30 volunteers gathered to clean up Little Neck Creek and Beach Garden Park. Joining the team from the Waterfront Law group were Jim and Renee Flinchum, Bay Capital Advisors owners. Pearl Business Coordinator Vince Bowhers was also in attendance.
"Beach Garden Park is a beautiful Virginia Beach park to stroll through and observe the plants and animals of marshland in the Lynnhaven River Watershed. It is conveniently located near the Laskin Road traffic circle and has a trail that goes all the way along Little Neck Creek to the Museum of Contemporary Art," Vince Bowhers said. "Unfortunately, some people are careless with their waste along the busy Laskin Road corridor to the beach, and the park needed a cleanup to keep the plastic bottles, bags, and other waste from flowing all the way to the Chesapeake Bay and beyond."
One of the most common issues natural environments like waterways face is physical habitats suffering from trash, chemical pollutants, and debris. This prevents community members from enjoying the natural landscape and threatens aquatic ecosystems within the creek. Plastic trash and waste pose a direct threat to waterfront communities and those within the community with a strong admiration for nature.
Working together with community volunteers, Jim Lang and the team cleaned up 570 pounds of waste from this beautiful, waterfront community.
"Lynnhaven River NOW greatly appreciates the support of the Pender & Coward Waterfront Law Team and our many other wonderful volunteer groups that came out, as they do every month, [helping] keep our community clean and healthy," Vince Bowhers said.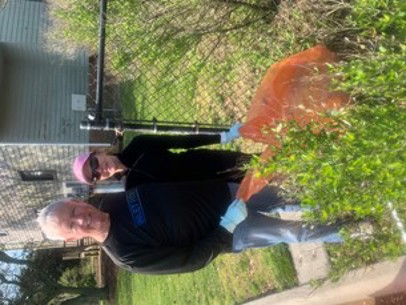 (Jim and Renee Flinchum of Bay Capitol Advisors)