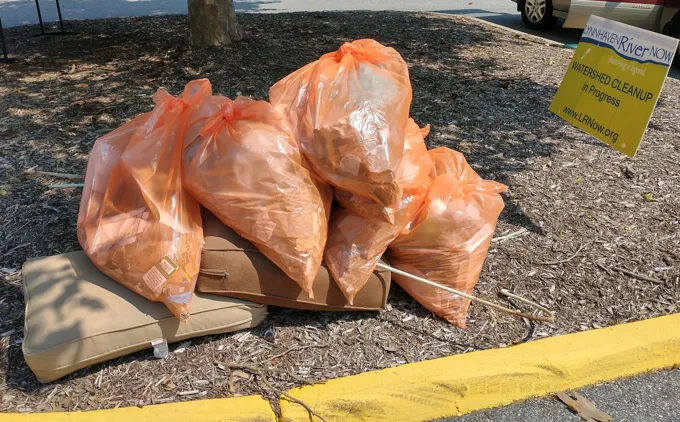 Waterfront Law Team Helped to Remove 182 Pounds of Trash at Environmental Cleanup
The Waterfront Law Team Volunteers at Lynnhaven River NOW Environmental Cleanup
On Saturday, August 14, 2021, Jeffrey Wilson, Bryan Peeples and Cozette Holland from the Waterfront Law Team of Pender & Coward joined volunteers to assist with the Lynnhaven River NOW (LRN) environmental cleanup near West Neck Creek in Virginia Beach.
"West Neck Creek is a particularly important waterway to keep clean because it feeds both to the North into the Lynnhaven River and Chesapeake Bay and to the South into the North Landing River and to Currituck Sound and the Albemarle-Pamlico watershed. It is a scenic waterway in Virginia Beach that can be paddled between the two largest estuaries in the United States! Three members of the Pender and Coward Waterfront Law Team joined Lynnhaven River NOW in an effort to clean up a portion of West Neck Creek and the surrounding watershed. A team of about 20 volunteers cleaned the drainage ditches along Nimmo Parkway near the Princess Anne Recreation Center, preventing the trash from washing into West Neck Creek. A second crew of seven kayakers launched from Dozier Bridge Launch near the Municipal Center and cleaned along the shoreline to the South. The crews pulled almost 200 pounds of trash out of the waterway and the drainage area. Many thanks to all who came out on this hot August Saturday morning to make our community cleaner and healthier!" said Vince Bowhers, Pearl Business Coordinator, Lynnhaven River NOW.

About Lynnhaven River NOW
Lynnhaven River NOW believes every community in Virginia should have pure water, clean air, and access to open spaces for recreation. LRN works to create environmental volunteering events to try to ensure that these fundamentals of life are available to all residents of Virginia Beach. Their work began in 2002 and was focused on the Lynnhaven River watershed area of Virginia Beach. Their goal was to improve water quality to meet the rigorous standard for shellfish harvest by 2007, and they reached that goal! In 2002, only 1% of the river met that standard and watermen were unable to harvest oysters in the Lynnhaven. By 2007, 29% of the river was open and commercial oyster farming had returned. Today, they work throughout the city, not only on education and outreach, but also restoration and advocacy efforts like trash clean ups.
If you would like to learn more about Lynnhaven River NOW and their monthly environmental volunteering events, please visit their website.
If you have questions or concerns regarding your riparian property rights or waterfront property, contact Jim Lang and team for advice and assistance.