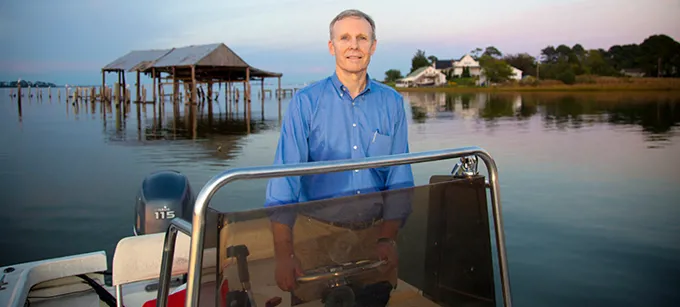 Ramone Photography
Jim Lang to Speak at 130th Annual Meeting for the Virginia Bar Association
Upcoming Waterfront Property Rights Seminar
Riparian Property Rights attorney Jim Lang is teaching a seminar titled "Waterfront Property Rights: The Tension Between Traditional Common Law Riparian Rights and the System of Environmental and Natural Resource Regulation" on the morning of Friday, January 24, 2020, at the 130th Annual Meeting of the Virginia Bar Association, in Williamsburg, Virginia. Click here for details. This seminar is accredited by the Virginia State Bar. Virginia-licensed attorneys who attend will receive continuing legal education credits.
Slippery When Wet: Surface and Ground Water Law for Property Owners
Jim is teaming up with two other panelists as part of a larger 90-minute presentation titled "Slippery When Wet: Surface and Ground Water Law for Property Owners". This presentation is sponsored by the Environmental, Natural Resources, and Energy Law Section of the Virginia Bar Association. It will present an interactive discussion of waterfront property rights and obligations, surface water and groundwater supplies and usage, and emerging contaminant risks.
Waterfront Property Rights Seminar Details:
The presentation will cover general waterfront property rights and the tension between traditional common law riparian rights and system of environmental and natural resource regulation; environmental regulation of property on coasts, rivers, and streams; and groundwater supply and emerging contaminants with a focus on emerging litigation topics.