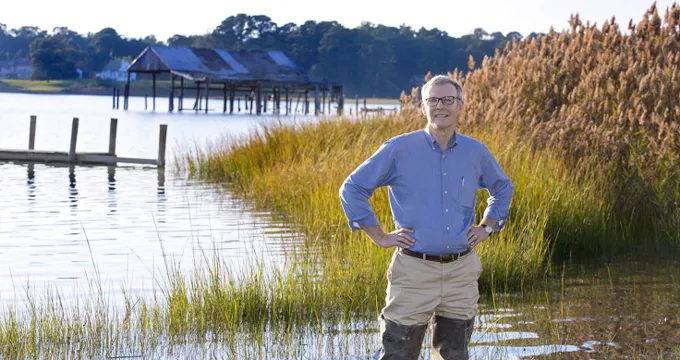 Jim Lang, Waterfront Law Team
Updates on Living Shorelines – Webinar Recap
Watch Our Webinar
What We Covered in Our Webinar
In our latest webinar, Jim Lang of the Waterfront Law Team and Vince Bowhers of Lynnhaven River NOW discuss updates on Virginia's new living shorelines law as well as lessons learned in building living shorelines and navigating the permit process.
You can download the slides from this webinar here.
Living Shoreline
A living shoreline is a shoreline management practice that provides erosion control and water quality benefits; protects, restores, or enhances natural shoreline habitat; and maintains coastal processes through the strategic placement of plants, stone, sand fill, and other structural and organic materials. Virginia Code §28.2-104.1.
There are many pro's to installing a living shoreline: they help protect the area from erosion, they help lessen flooding; they help improve water quality and they help in the production of more finfish, crabs and oysters.
The main con to installing a living shoreline is the cost.
Hardened Shoreline
A hardened shoreline is the installation of engineered shore structures to prevent erosion through seawalls, bulkheads, revetments and riprap (hardened shorelines can also be referred to as "armored" shorelines).
Hardened shorelines traditionally are the "default" method selected by waterfront property owners. There are over 7,000 miles of coastline in Virginia (over three times the distance between Virginia Beach and San Diego). About 18% of the Chesapeake Bay coastline is armored, with higher values (45-50%) along urban shores in many areas.
Living Shoreline Law Enacted in 2020
"The Virginia Marine Resource Center (VMRC) shall permit only living shoreline approaches to shoreline management unless the best available science shoes that such approaches are not suitable." Virginia Code § 28.2-104.1(D). The key to the operation of this law is knowing how Local Wetlands Boards and VMRC interpret and apply "best available science" and "suitable.""Best available science" received regulatory attention in May 2021, when the VMRC published its Wetlands Guidelines. There, the VMRC did not tell us "what" constitutes "best available science" but the agency did tell us "who decides" when it wrote "VIMS will be the arbiter in situations in which the best available science is in question." The Waterfront Law Team has a blog article analyzing the legal precedents that should guide the agency and the courts in application of the "best available science" legal standard (read here). When it comes to cost, the statute and VMRC Wetlands Guidelines are silent. People who think they should not be required to install a living shoreline because of the cost will not receive any guidance from the statute nor from the regulations that VMRC issued in May 2021 (the Wetlands Guidelines). To read our blog article analyzing the legal precedents on whether cost deserves consideration in situations similar to that found in the new Living Shoreline law, please read here.
Implementation at Local Wetlands Board
The Local Wetlands Board (LWB) is central to implementation because the inter-tidal zone is the location of the shoreline (whether living or hardened). The living shoreline law amended the wetlands zoning ordinance to require the LWB to document whether a living shoreline is "suitable." Virginia Code § 28.2-1302 (§ 4(B) of the Wetlands Zoning Ordinance). It is possible there can be inconsistent decisions as there are up to 46 LWB's in Virginia. The VMRC Habitat Management staff monitors each LWB and each LWB decision can be appealed (first to the VMRC, then to the Circuit Court).
Change is Good
Upon the conclusion of Jim's presentation, Vince began to discuss the importance of change when related to our shorelines. In his estimation, more property owners are showing interest in exploring shorelines; consultants and installers have added a great deal of experience with Living Shorelines; the permit process has become more streamlined; there are assistance programs in place and lastly, it has allowed for improved habitats, water quality and beauty.
Living shorelines bring tremendous value and benefits to the community. They help with erosion control, habitat, beauty, filtration and carbon reduction!
Implementation at VMRC
Jim pulled VMRC data for all of the Living Shoreline cases that have come before the VMRC (Commission hearings from , July 2020 to May 2022) as this would help our audience better understand how "best available science" and "cost" are being considered in the permit-issuance process. Jim noted that his analysis is preliminary in nature and has not been peer reviewed nor reviewed by VMRC. During this period, Jim found 18 cases that triggered the Living Shoreline law. The cases have focused on shoreline erosion and shoreline erosion plus failed bulkheads. There have also been Living Shorelines cases decided by regulatory agencies without a VMRC hearing. There are unappealed decisions made by Local Wetlands Board, projects decided by the VMRC where the value of the projects are more than $500,000 and have no protest filed (in which case the VMRC staff has the power to administratively issue the permit).
The applicant demographics can be split in three categories, with half of all applicants coming from a residential applicant, about a third coming from a governmental applicant and the remaining coming from a commercial applicant. Additionally, there are three primary types of proposals, with almost half of all applicants asking for a mix of living / hardened shorelines, a third asking for 100% hardened shorelines and the remaining asking for 100% living shorelines.
Conclusions
Results
5,983 feet of living shoreline approved
6,581 feet of hardened shoreline approved
The Living Shoreline issues were no longer at issue when the case reached the VMRC hearing in 15 of the 18 cases (83%). This is the situation when an unappealed decision of the Local Wetlands Board reaches the VMRC for decision as to remaining issues (typically the need for a permit to use state-owned bottomlands under 28 Virginia Code section 1205).
"Cost" heavily contested in 2 of the 18 VMRC cases (11%)
February 2021 (Cherry, JPA #20-1848)
March 2022 (Westphal, JPA #22-0082)
Commission rejects staff recommendation on 5-1 vote, holds cost should not be considered
Best Available Science"
Frequently in play but not yet explicitly contested
There has been no court review yet of any Living Shoreline case (but stay tuned).