C. Lotongkum/Shutterstock.com
Smithfield Foods Partners with Dominion Energy to Produce Environmentally-Friendly Power from Hog Manure
About Smithfield Foods, Inc.
With annual sales of over $14 billion dollars, Smithfield Foods, Inc. is one of the largest and most profitable companies in Virginia and one of the few Fortune 500 companies based in the Commonwealth. It is by far the biggest employer in the small town of Smithfield, Virginia where the company is headquartered.
Smithfield and the Commonwealth
Smithfield Foods is an integral part of the town that shares its name. For example, this past July the company donated nearly six acres of waterfront property along the Pagan River to the town, for use as a boat ramp. This is just one of many examples of Smithfield's involvement in the community which reflects the company's commitment to being a good corporate neighbor.
However, the relationship has not always been perfect. Smithfield Foods is a food processing company which raises millions of hogs for the market. The animals are kept in areas known as Confined Area Feeding Operations, or "CAFOs." Feeding and housing this many animals can have severe environmental consequences. This is primarily due to the enormous amount of animal manure that is produced and stored in these facilities. For a detailed explanation of the negative environmental impacts on the Chesapeake Bay and groundwater aquifers, read this article focusing on large poultry CAFOs on Virginia's Eastern Shore.
Repercussions of Smithfield's Lagoons
Over the years, Smithfield Foods has stored most of its hog manure in large cesspools called "lagoons" which are located in Virginia and North Carolina. This method has come with its share of problems.
For example, in June of 1985, Judge Robert Merhige, Jr.,of the Eastern District of Virginia (Richmond Division) levied a civil penalty of more than $1.2 million against a subsidiary of Smithfield Foods in a citizen's environmental suit brought by the Chesapeake Bay Foundation and the Natural Resources Defense Council for damage caused by waste runoff into the Pagan River.
Additionally, in 1997 the EPA brought an enforcement action under the Clean Water Act against the company for its pollution of the river. In that case, Judge Rebecca Smith of the Eastern District of Virginia (Norfolk Division) imposed a fine in the amount of $12.6 million on Smithfield Foods, which at the time was the largest Clean Water Act civil penalty ever imposed.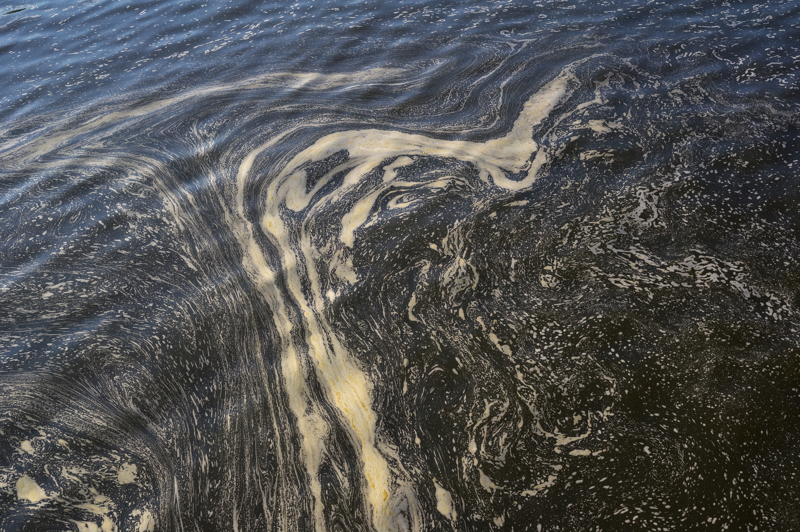 Repercussions of Smithfield's Lagoons - M-Sur/Shutterstock.com
Other Issue with Lagoons
These are not the only problems that Smithfield Foods has experienced with its lagoons. In 2000, after several of its cesspools overflowed during Hurricane Floyd, the company entered into a deal with the Attorney General of North Carolina in which it agreed to spend $65 million to research better ways to store and dispose of manure.
In 2015 Governor Terry McAuliffe dedicated over $3 million of taxpayer funds to help relocate residents from an entire neighborhood located in close proximity to the Smithfield plant due to the noxious fumes and unsafe conditions caused by the lagoons.
Additionally, since 2014, twenty-six nuisance lawsuits have been filed against Smithfield and its subsidiaries by North Carolina residents who live near the lagoons, resulting in millions of dollars in compensatory and punitive damages.
Smithfield Accepts Responsibility and Develops Sustainability Plan
It seems that Smithfield Foods has recognized the economic and environmental consequences caused by the traditional method of storing manure from CAFOs, and has developed an ingenious solution which may be a win-win. In the traditional method, the manure stored in the lagoons is broken down naturally by bacteria. As the manure decomposes, a huge amount of stinking methane gas is released into the air.
Besides being very unpleasant for nearby neighbors, the release of so much gas is harmful to the planet. Scientists estimate that methane gas has a global warming impact 25 times greater than carbon dioxide! Letting this much gas escape into the atmosphere is also a waste of a potential renewable energy source – and a waste of money.
At some of its CAFOs in North Carolina, Smithfield Foods has begun partnering with Dominion Energy to recapture the methane and turn it into natural gas for industrial and domestic use. The plan involves capping the lagoons with heavy plastic coverings which will capture the methane rather than letting it escape.
The gas will then be hauled away in trucks or routed through a system of underground pipes to existing facilities. This is no small operation. The companies are planning to spend $500 million on the project, most of which will go towards installing the underground pipes.
A Carbon Negative Solution
Smithfield Foods and Dominion Energy point that the method is "carbon negative." Not only does it make use of a renewable resource, but it actually prevents the release of gas that otherwise would have escaped into the air. They say the plan will capture about 105,000 metric tons of methane each year, which is the equivalent of taking half a million cars off the road. It will also benefit local farmers, who will receive a share of the methane sales.
In Conclusion
It is encouraging to see a multi-billion dollar corporation like Smithfield Foods put these kind of resources towards a project that has the potential to help the environment while making a profit. As green technologies continue to develop, we look forward to more and more companies embracing not only the environmental benefits of using renewable energy but the positive impacts that such methods can have on their bottom lines as well. Do you have an Environmental Law question? We have answers - Contact us here.