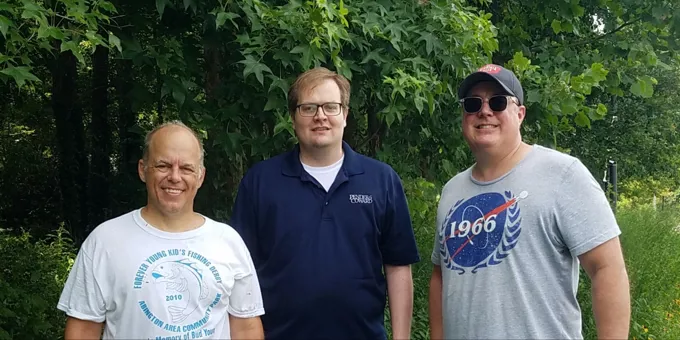 Waterfront Law Team Volunteers at the Paradise Creek Nature Park Cleanup.
Waterfront Law Team Participates in Paradise Creek Nature Park Cleanup
On Saturday, July 10, 2021 in Portsmouth, the Waterfront Law Team volunteered with the Elizabeth River Project to renew the Paradise Creek Nature Park. Our team helped remove invasive plants, weeded garden beds, and removed trash from the trails and wetland.
With two miles of trails, the 40-acre park rests alongside the southern branch of the Elizabeth River. It is now a national model for urban restoration.
Thanks to the help of volunteers across Virginia, nature is once again flourishing with many plants, animals, and trees growing to their fullest potential.
Thousands of spartina alterniflora grasses planted along the shore of Paradise Creek have turned barren mudflats into a vibrant 11-acre habitat for shellfish and birds. This urban forest provides an environment for native trees and fauna to continue to thrive along the restored wetlands.
In efforts to help nourish the songbird habitat, our team cut and cleared privet trees to create maintenance trails to several newly planted sassafras, oak, and pine trees placed strategically within the park.
We also occasionally enjoyed a snack of tart blackberries growing along the trails as we cleared overhanging branches for pedestrians and bicycle riders.
During our bushwacking, we learned to avoid cutting milkweed, the sap of which serves as a megafood for monarch caterpillars preparing for their journey to Mexico. As the park avoids using pesticides, it relies upon native wildlife now thriving in the growing forest. For example, a single opossum can devour upwards of 1,000 ticks a day.
Thanks to the Waterfront Law Team and the Elizabeth River Project volunteers, the trails of Paradise Creek Nature Park can continue to flourish and become an example for fully restoring nature back to its beauty.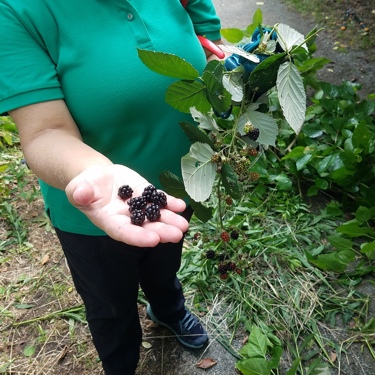 Tart blackberries found in the trails of Paradise Creek Nature Park.