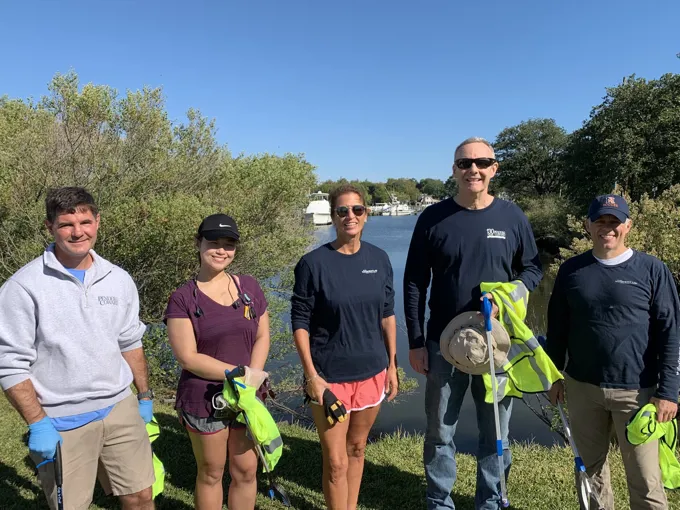 Bryan Peeples, Claire Heiserman, Mancha Stanton, Jim Lang and Thomas Berkley of the Waterfront Law Team
Waterfront Law Team Participates in Elizabeth River Project Cleanup
On Saturday, October 2, 2021 members from the Waterfront Law Team volunteered with the Elizabeth River Project to clean along the shore of Knitting Mill Creek and areas along the main thoroughfare that is Colley Avenue in Norfolk. Our team helped remove trash, cans, plastic and glass bottles, cigarette butts and a partially filled one-gallon Clorox bottle.
Fun fact: Knitting Mill Creek begins at 42nd Street and runs along the western edge of the Colonial Place neighborhood into the Lafayette River. To the west, standing along Colley Avenue, between 44th and 45th streets, is the century-old building whose operations gave the creek its name. The brick and masonry structure dates to 1895, when it was built as the Lambert's Point Knitting Mill.
According to Summer Mace, Assistant Director of Education at The Elizabeth River Project, "Not only is litter unsightly, but it can negatively impact our ecosystem and humans as well. The Elizabeth River Project's monthly litter cleanups help create a better and safer place for all. By picking up trash we are coming together to show pride for our community, which is why we're so grateful to have members of Pender & Coward join us in our most recent efforts! With the help of all of our volunteers this past weekend, we were able to collect 34.25 pounds of trash in just over an hour. What an accomplishment for the Elizabeth River!"
Thanks to the efforts of Jim Lang, Bryan Peeples, Mancha Stanton, Thomas Berkeley and Claire Heiserman with the Waterfront Law Team and the Elizabeth River Project volunteers, the shore of Knitting Mill Creek and the areas along Colley Avenue will remain trash and litter free for all to enjoy.
Interested in volunteering with The Elizabeth River Project? Click here to learn about their litter cleanup and restoration volunteer opportunities.