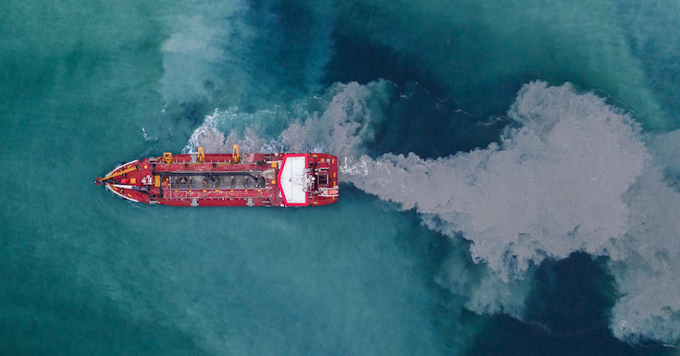 Sky Cinema / Shutterstock.com
The Larger Impact of Dredging in Virginia
Dredging is vital to commercial marine terminals and, by extension, to the economy of Hampton Roads, the economy of Virginia, and the economy of the nation
Waterfront commercial companies cannot get their or their customers' vessels to the dock unless they can dredge. To anyone who thinks this is no big deal - the shelves at the store or at your favorite online retailer would be empty if shallow water or a narrow channel blocked ultra large container ships that require draft up to 55' from making the final 15 nautical mile leg into the Port of Virginia at the end of the 13,843 nautical mile journey along the Atlantic Route from Shanghai, China to Norfolk, Virginia. Consider, too, the recent report finding that in 2018 the Port of Virginia delivered over $39 billion in gross state product and 397,000 jobs to the Commonwealth of Virginia.
Dredging is equally vital to the national economy because the ocean, which covers 70% of the earth in seawater, is the trading route for our planet. Ultra large container ships and large capesize bulkers plying these routes are locked out of U.S. ports and harbors until the barricades created by shallow water and narrow channels are eliminated through dredging.
The U.S. Department of Commerce found that in 2017 the U.S. maritime transportation system carried $1.6 trillion of cargo through U.S. seaports and that over 3 million jobs were directly dependent on the resources of the oceans and the Great Lakes. According to a recent report of the United Nations Conference on Trade and Development (UNCTAD), maritime transport remains the backbone of globalized trade and the manufacturing supply chain, as more than four-fifths of world merchandise trade by volume is carried by sea.
Commercial businesses both large and small know that we harm the U.S. economy if we do not dredge.
What is Dredging?
The activity known as dredging involves the removal of dirt, sediment, and other debris from the bottom of a body of water. In order to maintain waterways for safe passage of boats and ships, it is often necessary to dredge channels and harbors. Environmental dredging is also conducted in order to remove sediment contaminated by pollutants. There are several steps to any dredging process: extraction, transportation, and disposal.
There are two different types of machines used for dredging. Mechanical dredgers come in several varieties including dipper, backhoe, and clamshell. The grab or bucket loosens the bed sediment and then raises it for disposal. Hydraulic dredgers include hopper dredgers and cutter suction dredgers. Hydraulic dredgers remove suspended materials like sand or silt and pump it to the surface via outlet pipes. These types of dredgers are well suited for fine material dredging as opposed to mechanical dredgers that work better with heavy gravels.
In order to create channels, ports, and other navigable waterways, "new" or initial dredging is conducted to establish space for safe navigation. This is also sometimes called capital dredging and usually involves mechanical dredgers. However, over time, dirt, sediment, and other debris can build up in these waterways. Maintenance dredging must be conducted periodically in order to keep these areas clear and safe. Suction dredgers are commonly used for maintenance dredging.
Examples of Cutter Suction Dredges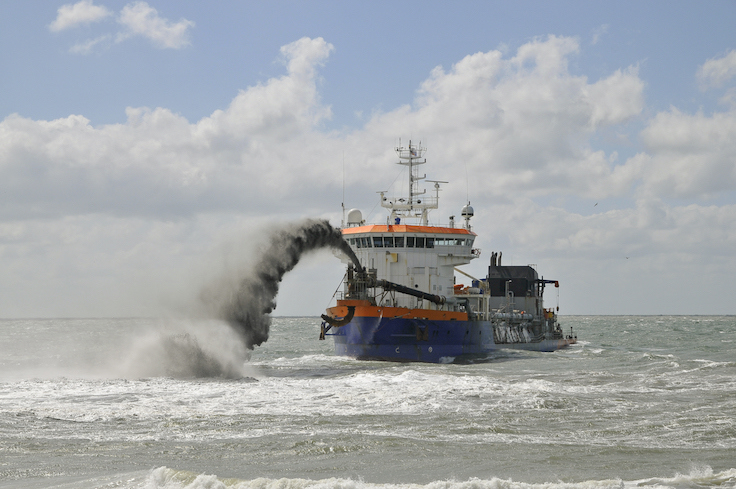 (E.G. Pors / Shutterstock.com)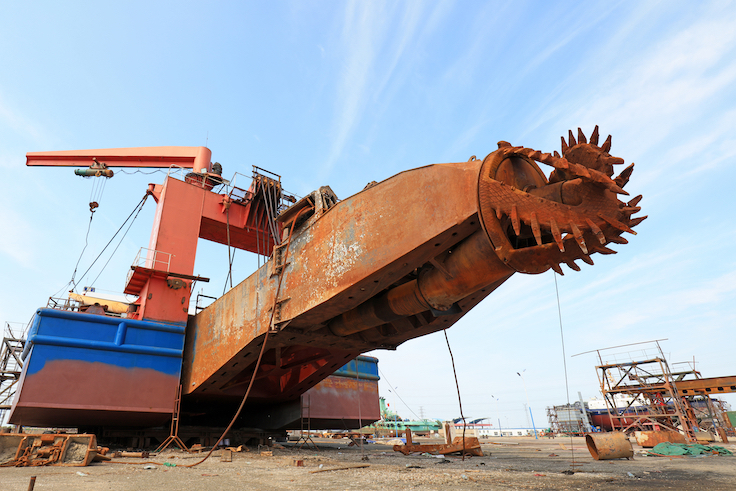 (junrong / Shutterstock.com)
Example of a Backhoe Dredger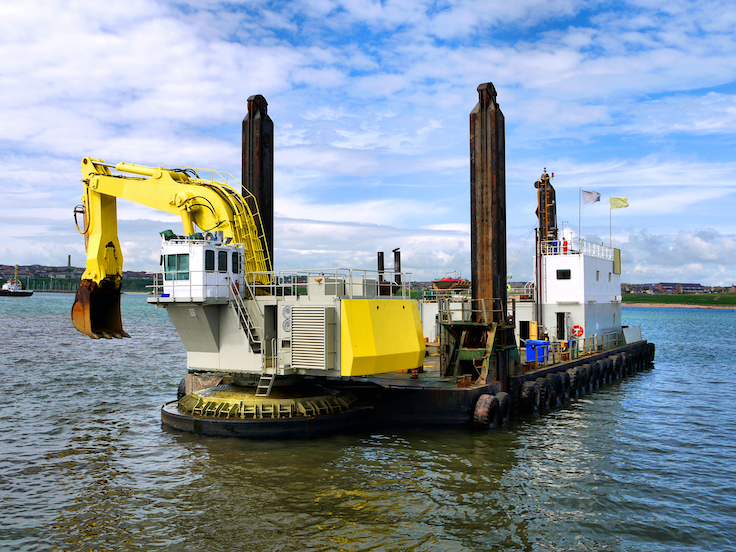 (Alan Smillie / Shutterstock.com)
Example of Clamshell Dredger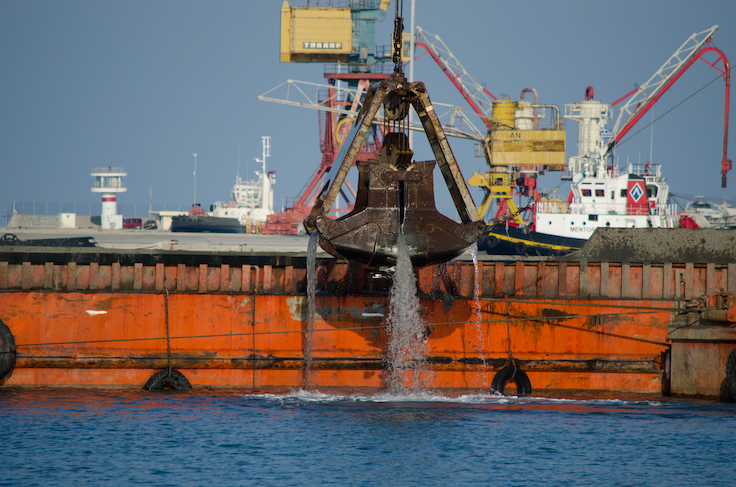 (Georgios Tsichlis / Shutterstock.com)
Dredging is also important to residential waterfront property owners
Smaller scale dredging projects are also important to support the needs of the residential waterfront property owners. One example is the Neighborhood Channel Dredging Project underway in Virginia Beach, Virginia. Dredging projects of this type restore deep water access. The ability to navigate a pleasure craft increases quality of life, supports the exercise of riparian property rights, and boosts the value of waterfront residential property.
Dredging is even used to clean up heavily polluted rivers
Dredging projects improve the health of waterways through the removal of contaminated sediment from freshwater or marine water bodies. One prominent example of environmental remediation done through use of dredging took place from 2009 to 2015 when 2.65 million cubic yards of PCB-contaminated sediment were removed from a 40-mile section of the Hudson River in New York. Closer to home, dredging was used in 2017 to remove 360,000 cubic yards of creosote-contaminated sediment from 24 acres in the southern branch of the Elizabeth River in Portsmouth, Virginia.
Dredging permits in Virginia -- easy or hard to get?
The size and location of a dredging project has a lot to do with the type and number of permits needed, and these permits can be a big driver of the project cost.
One of the most important factors in a dredging project is the overall size of the project. As noted in the Environmental Assessment for the dredging project underway to deepen and widen the channels leading into Norfolk, Virginia, the entire project will cost almost $292 million. The Environmental Assessment for a massive project of this size is over 300 pages long. Compare this, for example, to the 10 page submission for a $200,000 maintenance dredging project for a community dock and boat ramp area on the Corrotoman River in Lancaster County, Virginia or to the 60 page submission for the $60,000 project to maintenance dredge a slip at a residence on the James River in Richmond, Virginia.
General Permits vs. "Individual" Permits
Size plays such a large role in the project costs of dredging because larger projects involve a higher volume of material to be dredged from the waterbody. Another reason that size is influential is that the environmental permitting for a small project can often be accomplished through use of "general permits" whereas larger projects trigger the need for in depth analysis and formal regulatory processes associated with "individual" permits.
For example, the Environmental Assessment for the Norfolk channel referenced above, I estimate the cost to prepare this document likely exceeded $1 million. This is an example of the "individual" approach to environmental permitting. No Environmental Assessment was needed for the two smaller projects (the projects on the Corrotoman River and on the James River) because the law (called the National Environmental Policy Act or "NEPA") has a series of "Categorical Exclusions" that excuse the small project from the need to prepare an "Environmental Assessment" or an "Environmental Impact Statement."
Depending on project size and site conditions, there can be dozens of permits that must be obtained before a dredging project moves forward. The NEPA example in the last paragraph is just one. A small project can use a "Nationwide Permit" (such as NWP 19 or NWP 35), which is a general permit, instead of getting wrapped up in the far more complicated, costly, and lengthy process to obtain an individual permit needed for compliance with section 404 of the Clean Water Act.
Location also plays an important role in dredging costs
Another important factor in dredging project cost, in addition to size, is location. For example, if the dredging materials are contaminated, the project cost can increase significantly. Contaminated spoils are most likely found in "new" dredging at a waterbody that had industrial activities on its shoreline. Prior to 1970, when environmental laws came into being, companies (and people) freely and regularly deposited their waste (including massive amounts of toxic industrial waste) into rivers, harbors, and streams. Highly contaminated spoils are usually required to be sent to a hazardous waste treatment storage and disposal facility located upland; this can be very costly.
On the other hand, spoils with minor amounts of contamination can be deposited in "ocean disposal sites" such as the Norfolk Ocean Disposal Site or the Dam Neck Norfolk Ocean Disposal Site. Another more cost effective choice for spoils with minor amounts of contamination is disposal at the Craney Island Dredged Material Management Area (CIDMMA). Uncontaminated spoils are often used in beach nourishment projects. In 2019, the Virginia Marine Resources Commission adopted a "fast track" permitting program for disposal of uncontaminated dredge spoils.
Other location specific issues that can impact dredging project cost include the presence of endangered species at the site. This is sometimes a problem, but it is not usually a big problem. The presence of marine mammals at the site is not usually a problem. If wetlands will be impacted, this can be an issue, especially with shoreline dredging or shallow water dredging, but it can usually be accommodated with additional costs. The presence of subaquatic vegetation at the site can be a problem, particularly in the Chesapeake Bay.
Contact Jim Lang if you would like to see him publish more information on dredging in the state of Virginia. In future posts, he can explain the federal environmental permits and the state environmental permits needed for various types of dredging projects. Of course, you can always contact Jim for his advice and assistance in connection with any specific needs in your particular dredging project.