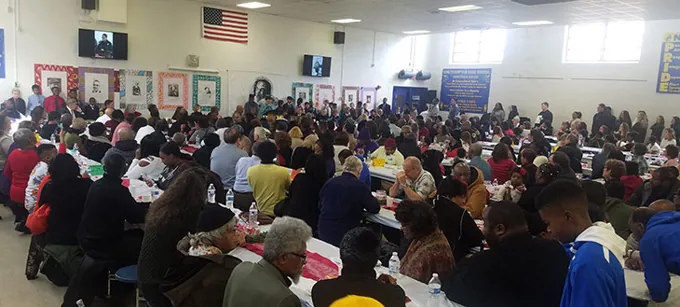 Photo Credit: Jeff Wilson
Jim Lang Waterfront Law Firm Serves Community Unity Day - January 2019
Our Waterfront Property Law team joined with our Virginia Eastern Shore community partner, Citizens for a Better Eastern Shore, on January 21, 2019 to serve 300 breakfast meals on a 19 degree morning at Northampton High School in Eastville, Virginia, as part of Community Unity Day.
The first Community Unity Day Breakfast took place in 1991 and in the years since has been held annually on the Reverend Martin Luther King Day federal holiday. Our Waterfront Property Law team supports the purpose of Community Unity Day, which is to bring members of the community together to eliminate division and celebrate diversity.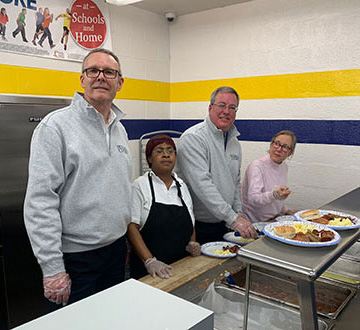 Photo Credit: Jim Lang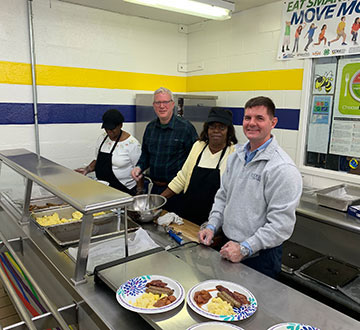 Photo Credit: Jim Lang
"We are grateful to you three for braving the winds on the CBBT and providing hands-on help [along with your generous donation] to our 29th Community Unity Day. You fed a lot of people who also braved the cold in the name of unity. It is wonderful to see folks who truly put their hearts and their hands behind their words. Thank you from all of us at the Northampton NAACP, CBES, and the Northampton County Public Schools."
- Donna B.
- Executive Director of Citizens for a Better Eastern Shore