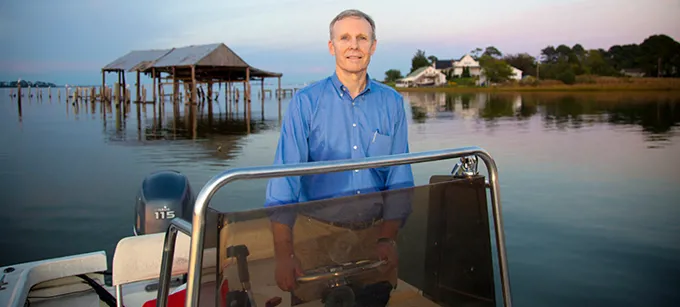 Ramone Photography
Jim Lang Featured in Coastal Virginia Magazine
Waterfront Law Knowledge on Display
At Waterfront Property Law, a division of Pender & Coward, we pride ourselves in our over 30 years of experience. At our core, our job is to protect your Waterfront, Maritime, and Environmental Rights. We defend Virginians who live, work, and play on the water. Through our deep connections with the community we serve we are often quoted in local publications like Coastal Virginia Magazine.
Rising Sea Levels Cause Major Problems for Homeowners
In the February 2020 edition of Coastal Virginia Magazine author Barrett Baker does a deep dive about why rising sea levels cause major problems for homeowners. In this article the subject matter expert quoted is our very own Jim Lang. Jim's commitment to defending waterfront riparian property rights for Virginians makes him the perfect resource for anyone who need help protecting their Waterfront, Maritime, and Environmental Rights. Here's an except from the article.
"As sea levels rise, people are going to see the footprint of their property shrink," says Jim Lang, chief operating officer and head of the Waterfront Property Law Practice Group at Pender & Coward in Virginia Beach. "For waterfront properties, even though the landlocked portions of your property line are fixed, the shoreline portion is going to move inland. Under Virginia state law—and this is consistent with other states—if you own property on the water, the shoreline portion of your property is defined by the line of mean low water, which is a 20-year average. That average is going to gradually march inland, so people who live on the water are going to see the size of their property physically shrink."