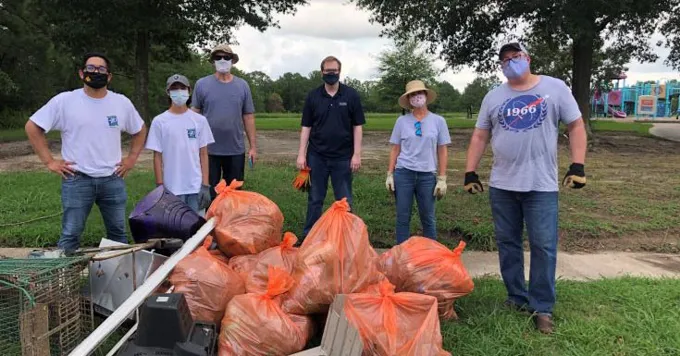 Cleaning Up Oak Springs Park with Lynnhaven River NOW
Teaming up with Lynnhaven River NOW
On Saturday, August 8, our waterfront law team once again participated in a Lynnhaven River NOW cleanup event. We're always happy to help clean Virginia Beach, and this time Jeff Wilson, Matt Hull, Abigail Wilcox, Edner Rull from MSA, Edner's 16 year old son, Deren, Helen Kuhns, and myself all participated.
While cleaning up Oak Springs Park, our group collected 400 pounds of trash in a single day, including a computer, two TV's, a shopping cart, a computer monitor, a microwave, an extremely large cinder block, and more.
One of the items of trash we cleaned up at the park.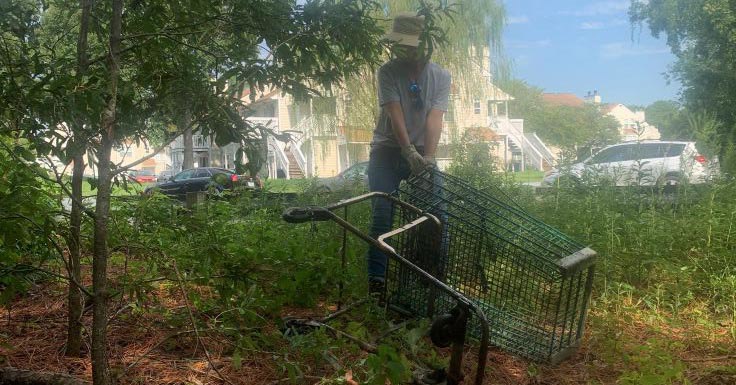 "Lynnhaven River Now truly enjoys its partnership with Pender & Coward," says Helen W. Kuhns, Assistant Director, Pearl Faith Coordinator, and Pearl Programs Coordinator for Lynnhaven River NOW. "Whether it's Jim Lang slogging through mud in his waders removing trash from the water's edge or the crew hauling heavy pieces out of the woods, P&C comes with a purpose and leaves no stone unturned in the quest for cleaner waterways. Thank you for all that you do, P&C!"
Why We're Passionate About Lynnhaven River NOW
LRN is dedicated to protecting and restoring waterways in Virginia Beach. It's goal is to ensure communities in Virginia Beach have clean air and water and spaces for recreational activities. Our riparian rights law firm is passionate about restoring and protecting Virginia Beach, and helping it to flourish. We have a long history of participating in cleanups and more, and we're proud to be able to team up with Lynnhaven River NOW.
To learn more about Lynnhaven River NOW events and more, visit their event calendar here.